How to Build Your Email List - and Use It!
Email marketing is a fundamental component of any digital marketing strategy - for good reason. Creating a strong email marketing strategy helps you reach and connect with your target audience in a personalized way and increase enrollment at an affordable cost. 
It starts with building an email list.
What exactly is an Email list?
An email list is simply a list of email addresses that you have collected from people who have shown some interest in your school. In addition to the email address, you may also have the name and other information about each contact. An email list is used to send content in the form of email messages directly to your contacts.

Why Build an Email List?
There are many great reasons to build an email list. 

Email Connects with Busy Parents
Email messages have more staying power than social media posts. Parents are very likely to check their email every day, but they may go days without checking social media. When you send an email, it's delivered directly to their inbox and an unread notification will stay there until it's opened. However, due to the nature of social media, parents may miss your update in their feed which means that connection opportunity is lost. Social media posts are considered to be very 'short expiry' pieces of content, whereas Emails are rarely missed!

Email is Personal

If you use a system that includes the parent's name as well as their email address (like our Montessori CRM), you can customize your emails so that each recipient feels like it's a private conversation. They can ask you questions confidentially by replying to your message. This helps build trust and a connection.

You Own Your Email List

You can organize it any way you want and you don't have to pay anyone to use it. It's all yours!
How to Build your Email List
So now we know why you want to have an email list. But how do you go about building one? First, a couple of organizational points...

Establish Where You'll Keep Your List

First, you will need to decide where you will keep your list. We highly recommend a system that will allow you to store additional information with the email address. At a minimum, having a first name in addition to the email address will allow you to personalize your emails for greater engagement. 
Our Montessori CRM simplifies the storage and organization of your email list. Other services like Mailchimp or Constant Contact also work well, but they lack the crucial additional benefits of built-in scheduling and admissions pipeline management.  
It's important to always include a way for subscribers to unsubscribe from your email list. 

Determine How You'll Organize Your List

Second, categorizing the contacts in your list can be very helpful. There are many ways to think about this. Perhaps you'd like to tag prospective parents with how you acquired their email address, the age of their children, or the year they were added to the list. Categorizing parents as "prospective", "current", and "alumni" may also help your email strategy. 
By using the tagging system included with our Montessori CRM, you can attach any number of tags to each contact. For example, a parent could be tagged as "2021", "general inquiry form", "prospective", and "elementary". Giving some thought to how you'll categorize your contacts upfront will help make your list easier to maintain as it grows and allow you to target special email messages to specific audiences. 

How to Grow Your Email List
Once you've figured out where to store your list and how to organize it, it's time to think about how to grow your email list. There are many ways to do this and it's an ongoing process. We recommend starting with the following:
Include a General Inquiry Form on your Website

This is the "Contact Us" form that you see on so many sites. The more form fields you require, the less likely someone will submit your form, so keep it simple. We recommend asking for just the essential information: first name, last name, email address. You can also ask for optional information, such as phone and program interest, and it's always a good idea to include a text field for free-form questions or comments.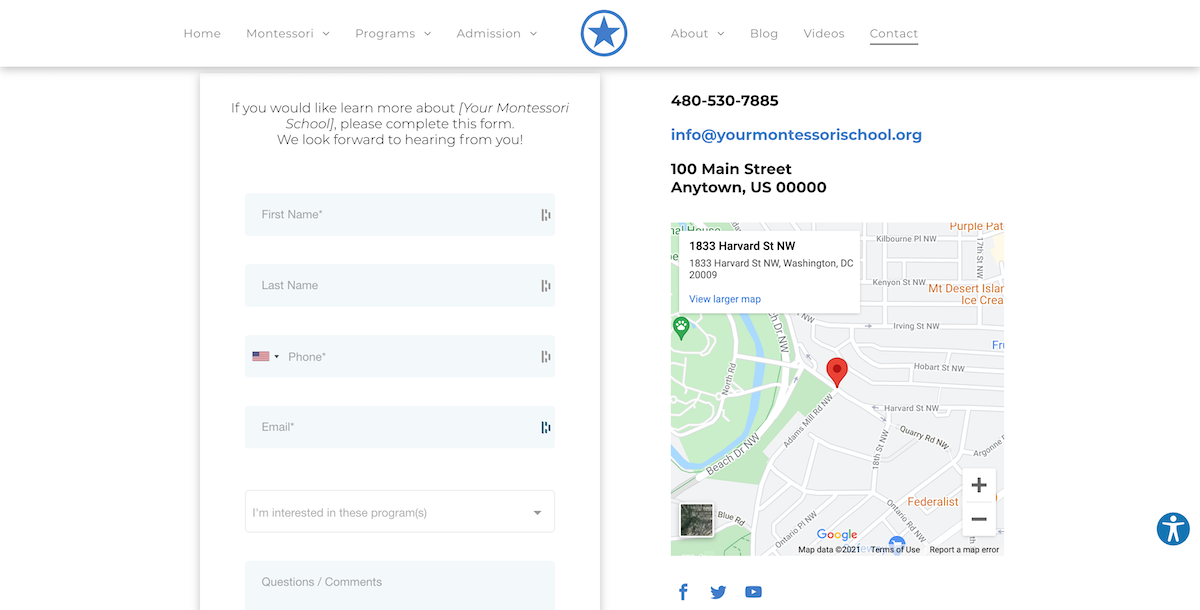 Always follow up as soon as possible when a form is submitted. Parents who submit the general inquiry form are almost always very interested in your school!
Offer Online Tour Scheduling on your Website

When you offer online tour scheduling, you will naturally need to ask for the parent's contact information. Once you have it, make sure it gets added to your email list!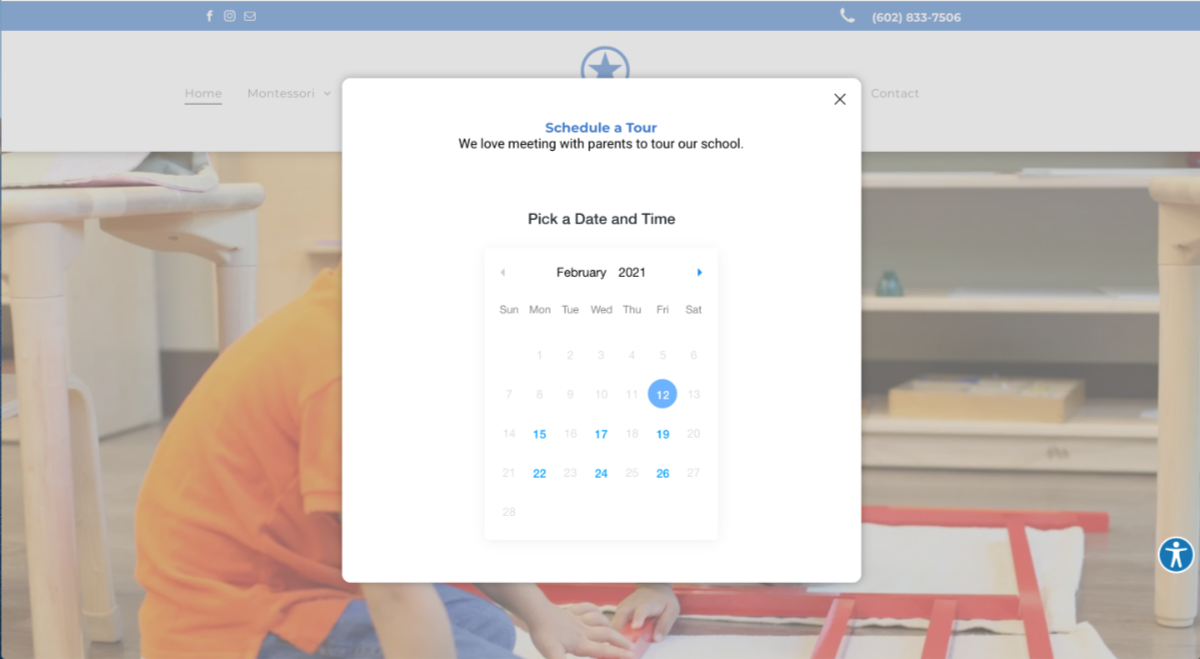 Offer Lead Magnets on your Website
A lead magnet is essentially something you offer for free to a website visitor in return for their contact information (name and email address).
What is one of the top questions a prospective parent asks about your school? If you guessed your tuition rates, you'd be right. Your tuition information is your strongest lead magnet on your website, mainly because it's something parents really want to know. Instead of listing your tuition rates on your website, offer a form on your website instead. That way, it gives you an opportunity to start a conversation, which is especially important for those that might be on the fence and need more information to justify their decision.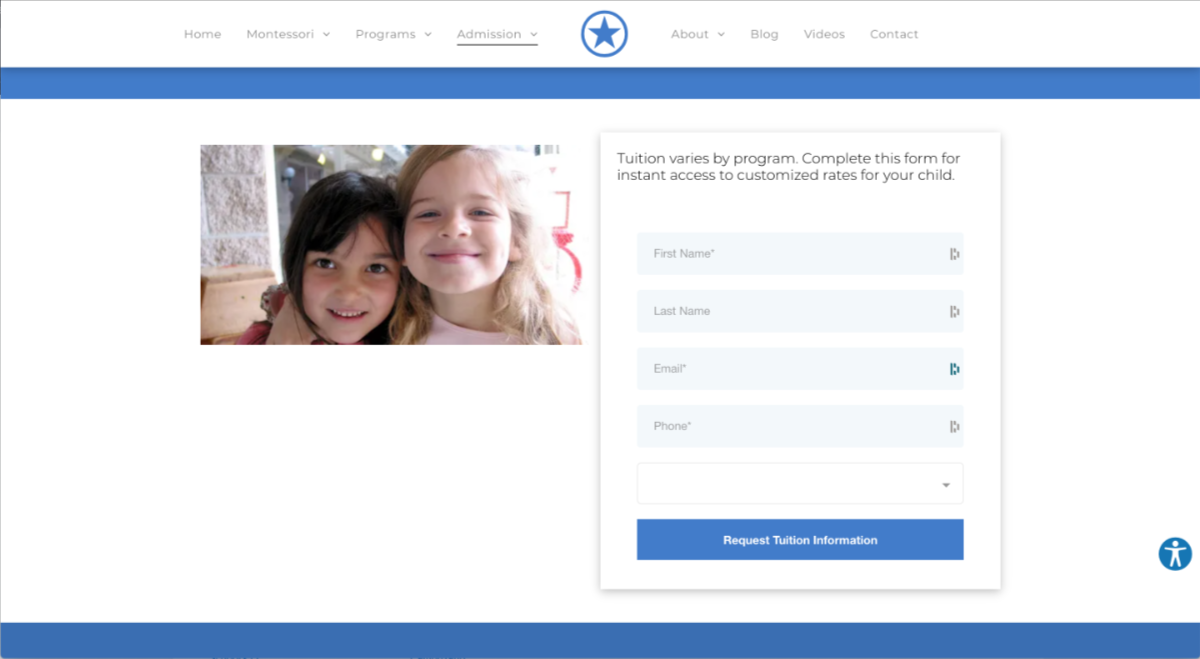 For your Montessori school, a lead magnet might also be an article download, such as Montessori or Conventional: What's Right for Your Family?  or 10 Montessori Myths. 

A lead magnet could also be the opportunity to take an online quiz, such as Is Montessori Right for My Family? 

There are hundreds of lead magnets you can offer potential parents, but don't be generic. Instead, offer specific information pertinent to your school or the overall Montessori experience.

A good place to start to generate lead magnet ideas is to think of questions or concerns many parents have when they consider a Montessori education for their child. How can you help answer these questions or solve a problem for them? Lead magnets of these sorts offer instant gratification to highly qualified parents who are actively seeking information about your school and Montessori education. 

Write Regular Blog Articles
If you offer a blog on your website (and you should! See our previous post 5 Reasons Why Blogging is Important for your Montessori School), you can offer visitors a way to subscribe to your posts. Add their email addresses to your email list. 
Provide Open House and Other Event Signup Forms
Whenever you have a signup form at an event, always ask for an email address as well as a name. If this is a paper form, be sure to transfer the signup information to your online email list so that you can easily follow up with these contacts.
How to Use Your Email List
Once you have a growing email list, there are many ways you can use it to raise awareness of your school. Remember to personalize your emails by including the recipient's name.

Send a Regular Newsletter

By sending regular newsletter emails with compelling content and links back to your website, you encourage parents to return to your website to learn more about your school.
Not sure what to include in your newsletter? A couple of paragraphs about your latest blog post or happenings at your school is perfect. These newsletters shouldn't be lengthy. The point is to remind parents about your school and provide links back to your website to encourage further engagement. 

Notify Parents about Special Events

Do you have an upcoming open house or fundraiser? While it's important to consider advertising for these events, your email list is a free and easy way to reach parents who have already shown an interest in your school. Consider designing a nice looking email with RSVPs built-in. 

Notify Parents about Upcoming Admissions Deadlines

Do you have an admissions deadline coming up? Are your programs filling up? Creating a sense of urgency can do wonders to make fence-sitters take action and book that tour or submit that application. Use a well-written email to keep your prospective parents informed about the status of your school's admissions. 
Educate Parents with a Series of Emails
Montessori isn't always easy to explain to newcomers. There is so much to it and it's a challenge to break through the noise and communicate the value in a short phone call or a single email. How many prospective parents make a different choice because they just don't get it? 
A targeted series of emails can help to educate prospective parents about the value of Montessori education. Not everything all at once, but in a coordinated way that draws them in and entices them to dig deeper. You can set up an automated series of emails in the Montessori CRM, so that it's easy to add new contacts and you know they're receiving regular information about your school.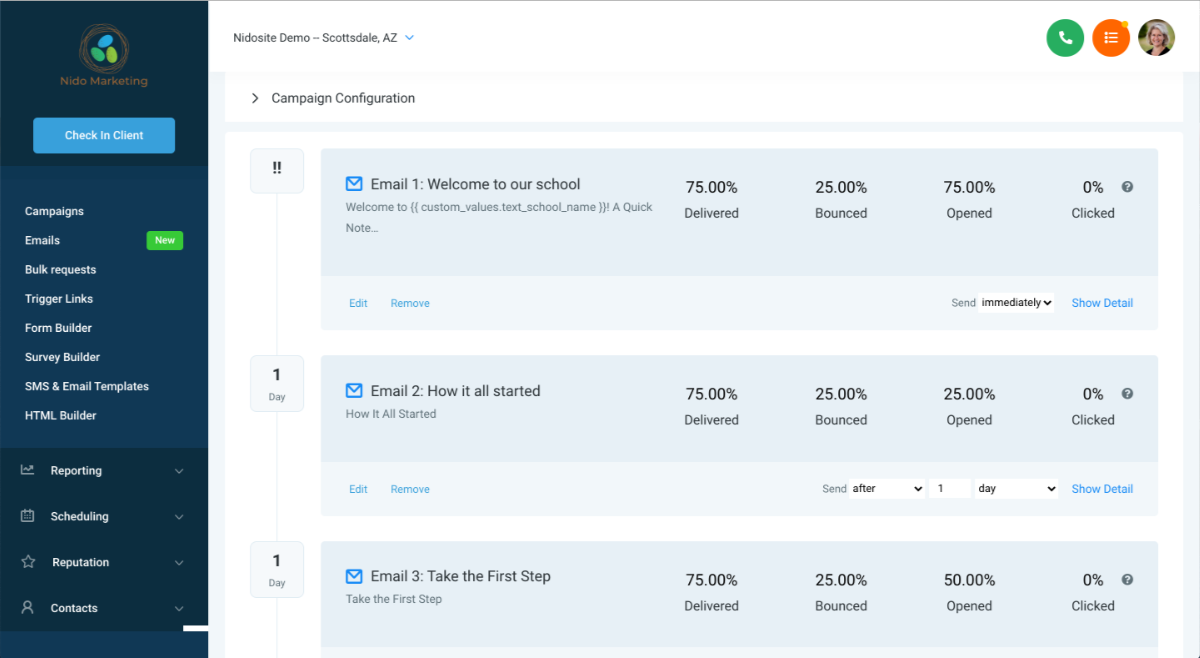 There's a reason why email has been around for a long while. It remains a personal, easy, and effective way to connect with parents and grow your admissions. 
If this all feels a bit overwhelming, schedule a free consultation and we can help you get started with marketing your school with email!