Why You Need to Start a Facebook Group for Your Montessori Parents
By now, you know that Facebook is an excellent way to market your Montessori school:
You can run paid ad campaigns that

target your specific audience

— i.e. parents in your community who are searching for the best educational experiences for their children.
But did you know, in addition to these marketing efforts, you can (and should) also start a Facebook group for parents of enrolled students? A private Facebook group for parents is yet another valuable marketing tool for Montessori schools.
Here's why.
Get preferential treatment from Facebook.
Facebook is an ever-changing landscape that recently rolled out updates to favor organic posts over business posts.
That isn't the best news for Montessori schools, since you fall into the business category.
Fortunately, there's a simple way to get around this: create a group just for parents of enrolled students.
You can use this group to communicate with parents (which is highly useful to them) and get preferential treatment from Facebook (which is highly useful to your school).
By preferential treatment, we mean that Facebook sees your group's content as more "friends and family" content — and therefore, it prioritizes the parent group over businesses and brands.
That means more visibility for your school instead of less as these new changes are implemented.
A private Facebook group is a safe environment for parents to communicate with each other.
When you create a private Facebook group for parents, you essentially create a safe environment in which they can collaborate, discuss, and build a community among themselves.
As the creator and administrator of the group, you have control over its guidelines and terms of use. Parents can request to join the group, and as an admin, you grant them access and they agree to the terms.
Through the group, parents can submit forms, participate in polls, and potentially provide you with valuable insights to questions and concerns so you can address them and learn more about the parents of kids at your school.
This in turn helps your marketing efforts since you'll be able to tailor your content to their specific questions.
Build an even greater sense of the Montessori community for families.
Building community is an essential part of your Montessori school and your marketing efforts.
A Facebook group helps parents connect in a way that fosters an even bigger sense of community. They know they can find answers and share ideas with other parents, and ask for recommendations about a variety of issues that concern parents of young children.
Fostering community among parents is also a good way to increase retention at your school, so there's a good chance students will stay enrolled even as they get older.
There are more Montessori programs for kids ages 3-6 than any other age group, and if that's the case with your school, you want to retain students past the toddler stage and keep them through kindergarten.
When parents feel like they belong, they'll keep their kids enrolled, too.
Creating a Facebook group for parents is easy.
On your school's Facebook page, click "Create Group" in the top right.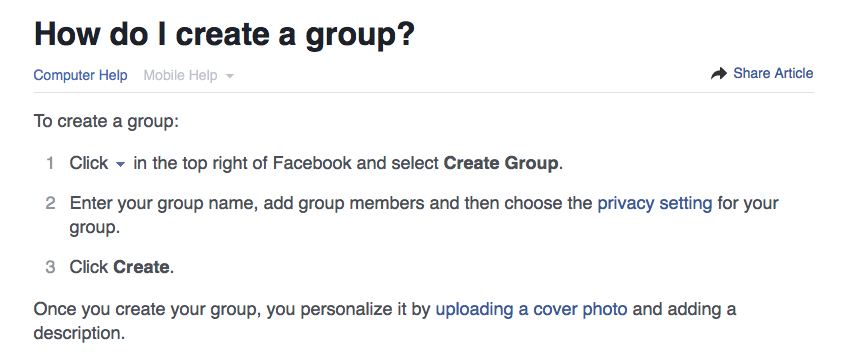 Next, enter your group's name and add/invite members.
You can also create a privacy setting for your group. The privacy settings let you determine who can see the group, who can join, and a host of other options for keeping your group closed to just parents of enrolled students: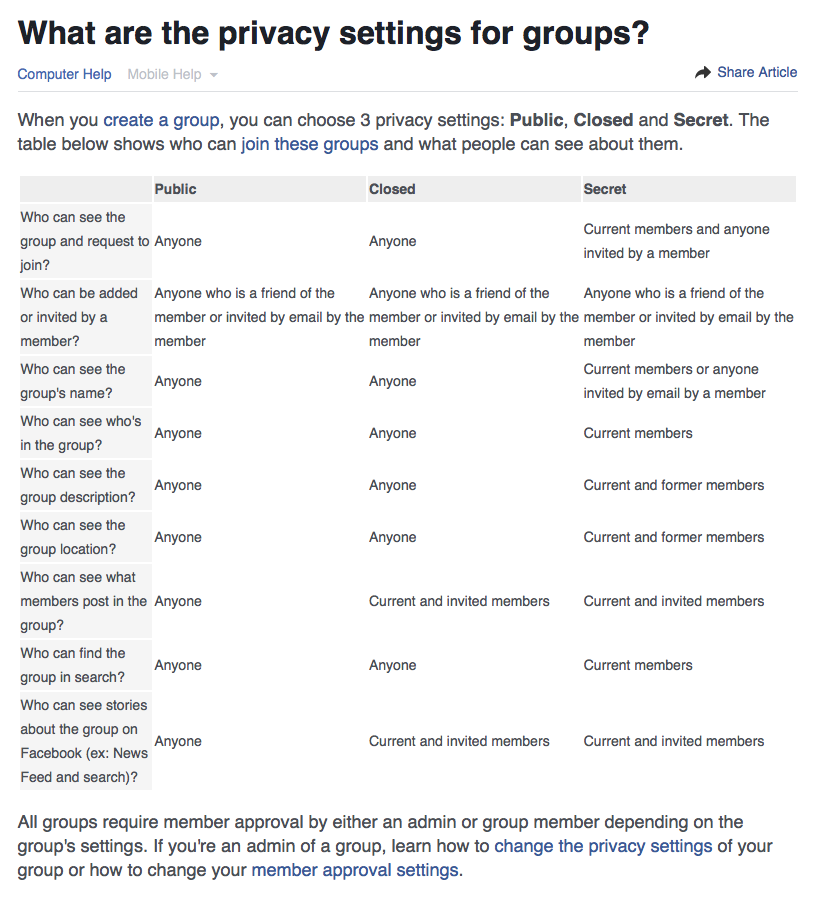 Another reason you should be the one to create your school's Facebook group is so a parent doesn't. If parents create their own group, you won't have administrator capabilities, and you won't gain valuable insights from their discussions.
And, if that parent decides to leave your school, for any reason, the group gets left behind or shut down.
Starting a Facebook group for parents is a simple, cohesive way to continue your marketing efforts, beyond Facebook's new algorithms and we can help you get started.
When you become a member of the Nido Marketing community, you'll gain access to a host of Montessori-focused marketing tools and be able to collaborate with fellow Montessorians and Nido's digital marketing experts. You'll also have access to Nido Marketing's private Facebook group.
Have questions? Get in touch, today. We look forward to meeting you.