Photographs That Share Your Story: Montessori School of Lake Forest and Our Montessori Photography Service
Key Insights
Complete Montessori Marketing Plan
FREE Montessori Photography Service
Photo Library
Nido Marketing's Professional Montessori Photography
More often than not, the first impression a parent will have of your school is online through photos — either through a social post, an ad, or your website.
Nothing captures the essence of your school like professional photography. 
Hiring a professional photographer to spend a day in your school can be time-consuming and expensive. Not to mention, finding a professional photographer that understands how to capture those Montessori moments. 
At Nido Marketing, we understand just how crucial great photography can be when it comes to marketing and engaging with prospective families.
Photographic content is essential and can be used to:
Create social media posts
Make dynamic promotional vides
Design captivating flyers and brochures
Showcase your school on your website
This is why we offer professional photography as part of our Montessori Marketing services. We want to make photography more accessible for Montessori schools who subscribe to our Complete Montessori Marketing Plan.  Schools that pay for one full year (an annual subscription) are eligible to receive our photography service free of charge. We will send our professional Montessori photographer to your school for a full-day photo shoot! Note: This is a one-time offer!
Alternatively, we also offer our Montessori Photoshoot as a standalone service.
This is what schools can expect from our photography service: 
Arranging and scheduling your photo shoot at one location.
Photo release forms for your families.
A questionnaire to communicate what you'd like the photographer to focus on.
A series of social posts with your new images.
A photo library for your school.
Learn more about our Montessori Photography Service
We have partnered with several Montessori schools and have been able to create comprehensive photo libraries with professional photographs that they can use for years to come!
One of our recent photoshoots was at Montessori School of Lake Forest in Illinois. 

About Montessori School of Lake Forest
At the Montessori School of Lake Forest (MSLF), they are dedicated to Montessori principles in order to care for and provide an education in excellence to children and families from birth through age twelve. From their Parent Infant Program all the way through their Elementary classrooms, their highly trained and experienced faculty and staff offer developmentally appropriate education for children, and useful, inspiring information for parents. MSLF functions as a community that puts the needs of the children first, in service of Maria Montessori's and their higher goal: an education for peace.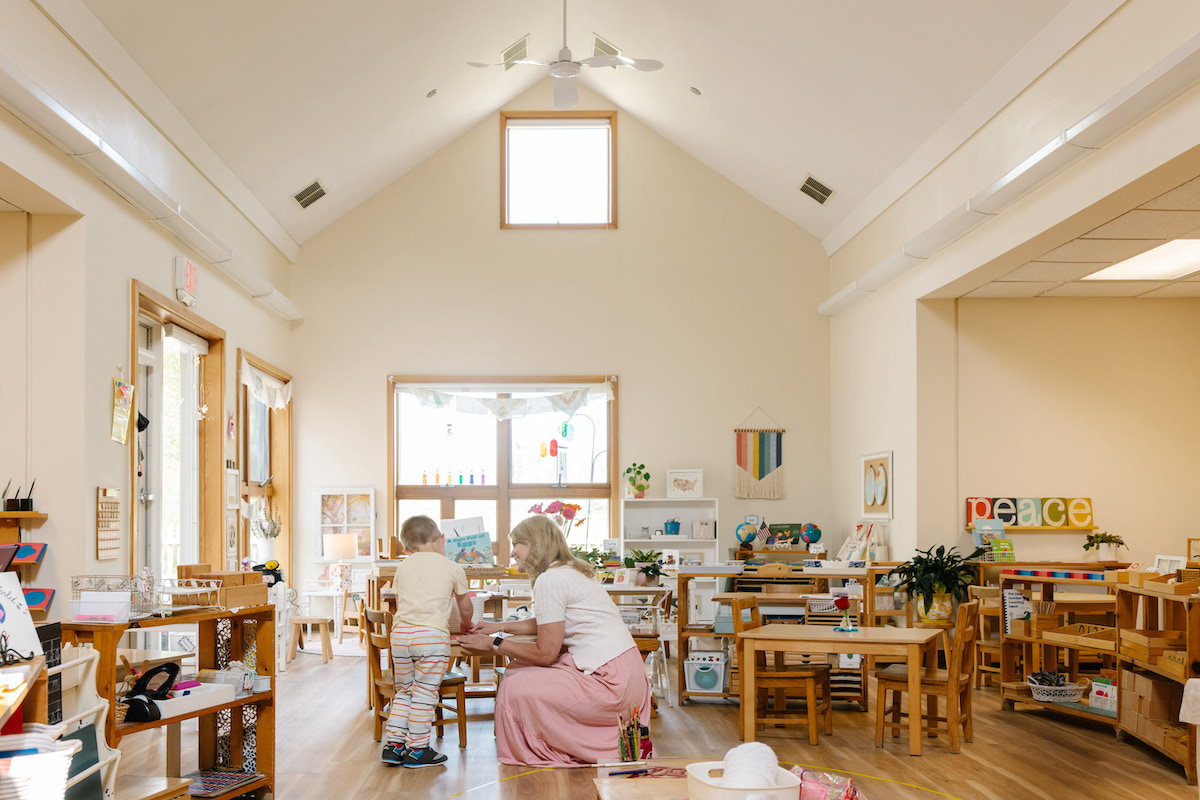 The Montessori School of Lake Forest has many rooftops and long hallways. When the school was designed in 1989, discussions between members of the board, faculty, and students led to creating "a house within a school." Specifically designed from the viewpoint of a child, and according to Dr. Montessori's philosophy, the "miniature home" of each classroom includes an exterior patio and garden. They put a lot of hard work into their environments and programs and provide all families enrolled in their school with high quality and authentic Montessori programs.
Nido Marketing is proud to partner with MSLF — a pillar of their community. 
In February of 2022, MSLF decided to sign up for our Complete Marketing Plan in order to reach more prospective families and grow their enrollment. This is what they receive as part of our complete plan:
Website & Automation
Montessori Website Template

Website Hosting
Uptime Monitor
ADA compliance

Unlimited Updates
Admissions Software
Integrated Automation

Unlimited Graphic Design
Montessori Content
Weekly Blogs
Weekly Emails
Daily Social Posts
Montessori Stock Photos
Parent Education Videos
Online Advertising Management
They trust in our services and paid for the annual plan up front, granting them access to our photography service for FREE. 

The Photography Experience 
So... how did it turn out for MSLF? After booking their photography date and filling out a questionnaire about what they wanted in terms of photographic content, we got to work and sent our professional photographer to their school. 
After a day of taking photos of the school facilities, classroom environments, Montessori materials, guides, and children working, MSLF received a photo library with hundreds of photographs that they can use for years to come.
Take a look at some of the images that were captured:
MSLF can easily access all of these photographs on their personal Nido Marketing photo library account. This makes it easy for them to organize their photographs and use them across their promotional material. 
At Nido Marketing, we want to make our services as accessible and straightforward as possible. We understand that school administrators have many other priorities to take care of.
Here's what the Administrative Director of MSLF had to say about our photography service:
"It was easy to make the request, and I know we had a delay in getting a response and setting up the date, but that was quickly resolved. The communication was great, and I loved that you sent a local photographer and connected me with her directly. Her style was perfect for what we were looking for, and I also loved that she was here for the entire school day. Often times when we've had photographers, the short amount of time they are here does not capture enough activity throughout the building. I appreciated that she was not hesitant to travel throughout the building on her own, and our staff was notified that we'd have a photographer on site that day. Kat also was thoughtful about certain images that would be meaningful to prospective parents, like the view from our observation rooms, which gives parents a chance to view the classroom behind one way glass. I also love that I now have pictures of teachers working in their classrooms, which is something that we are not able to capture, as teachers are the ones taking photos in their classrooms, and life in the office is so busy that to step out to take photos of all those special moments is just so hard to plan. I was also happy to get the photos so quickly, as with other services we had to wait much longer to see and be able to start using the photos. Thank you for including this benefit as a part of the annual plan!"
- Teresa Pavelich, Administrative Director, Montessori School of Lake Forest 
Nido Marketing is proud to partner with MSLF and looks forward to the future! A special thank you to MSLF and all that they do for their community and future generations!
Want to be our next success story? Schedule a FREE marketing consultation today & start your Montessori marketing journey!