How Nido Marketing Helped Montessori Family School Streamline Their Admissions
As digital marketers, we pride ourselves on partnering with incredible Montessori schools. We help them reach mission-appropriate families, communicate effectively, and nurture them to enroll and live their mission. We know that Montessori is what every child deserves... and we help schools communicate that to families!
When we partnered with Montessori Family School (MFS) in Berkeley, California, we knew that we could help them develop a communication system that worked for them so they could simplify their enrollment process, grow their enrollment, and focus more time on the families they serve. 
About Montessori Family School
In the tradition of Maria Montessori, MFS wants to reach and teach all children. The Montessori teaching method adapts itself to the individual learning style of each student. It starts with the "hands-on" exploration of concrete materials and evolves to the development of critical thinking and conceptual understanding.
MFS values and takes pride in a community that is dynamic and diverse. MFS students learn cooperation, problem-solving, and conflict resolution not because teachers tell them to, but because they learn that they are part of a larger, diverse society in which these skills prove critical to success. They nurture and value each child's innate desire to contribute to the classroom and the world.
MFS alumni consistently move out confidently into the world after tremendous success at both private and public high schools throughout the Bay Area. Many are currently enrolled in, or have graduated from, colleges on both the east and west coasts, including Ivy League colleges and the University of California system.
Nido Marketing is proud to partner with a Montessori school doing incredible work serving their community. 
Good Communication Is Good Marketing
There is much value in developing a strong and consistent communication strategy for your school. We have seen the implementation of automation, email nurtures, and website engagement transform the admissions process of Montessori schools. Good communication helps to make your mission memorable, kept top of mind, and impactful to your target audience. This was certainly the case for MFS. They already knew how to live and breathe their mission... they just needed a strategy that could consistently communicate it to prospective families. 
Nido Marketing designed the MFS website with automation run by our Montessori CRM (client relationship manager). This tool works 24/7 to communicate, check-in, and track prospective families at every step of the admissions funnel. This app allowed MFS to streamline an admissions process that worked for them so that they could interact with every lead, nurture them, and convert them into new enrolled families.  
Our team worked closely with the MFS administration team from March of 2022 to set up automation through the Montessori CRM, customize their website with tailored automation and forms, and familiarize them with the software. Our Client Success Managers were available for support, questions, and training. In a matter of weeks, the new MFS website was up and running and they were monitoring leads through the CRM software. In a matter of months, they noticed a big difference. 
So... how did all of this work once it was implemented at MFS?
They can respond to inquiries via email or text messages.
They can organize the contact information of their website visitors to touch base, follow up, and nurture them into enrollment. 
They can tag all of their contacts accordingly so that they can track their progress along the admissions funnel, segment their lists, and track them for future retention as well!
They can send reminders to prospective families and current families about tours, events, etc. 
They can track their leads at a glance!
For MFS, it has impacted how they manage prospective families... and is a huge time saver so they can focus on the amazing families they serve. 
A Website With The User Experience In Mind
Not only does a website design with automation help schools communicate more effectively with leads, but it also transforms the user experience. When parents can visit a school website, engage with valuable content, and schedule tours automatically on their own time... it makes your school much more accessible and trustworthy. Nido Marketing builds websites that are compatible with smartphones, tablets, and desktops, so that visitors can easily interact with your school on any device they choose. This is crucial for today's busy parents who may be doing their research on a phone or laptop. We worked closely with MFS to ensure their website was to their liking, reflected their mission, and created a great overall experience for each visitor. 
It is important to think about accessibility at all times.  All websites powered by Nido Marketing are ADA compliant. This allows website visitors to use a variety of on-the-fly modifications to make the website easier to navigate for those with disabilities. This is not only the law, but it helps to establish your school as one that welcomes diversity and accessibility to all. 
"Montessori Thrive and Nido Marketing have been invaluable resources for our school. Through Nido, my admissions communication has become streamlined and automated and our school website is now updated and more user-friendly. Nido and Thrive together have provided us with endless tech support as well as content creation, graphic design help, and even weekly education sessions. Nido has been a true game-changer for our school!"
-Rachel Kleinman, Admissions Director at Montessori Family School
Bonus! Montessori School Photoshoot Included!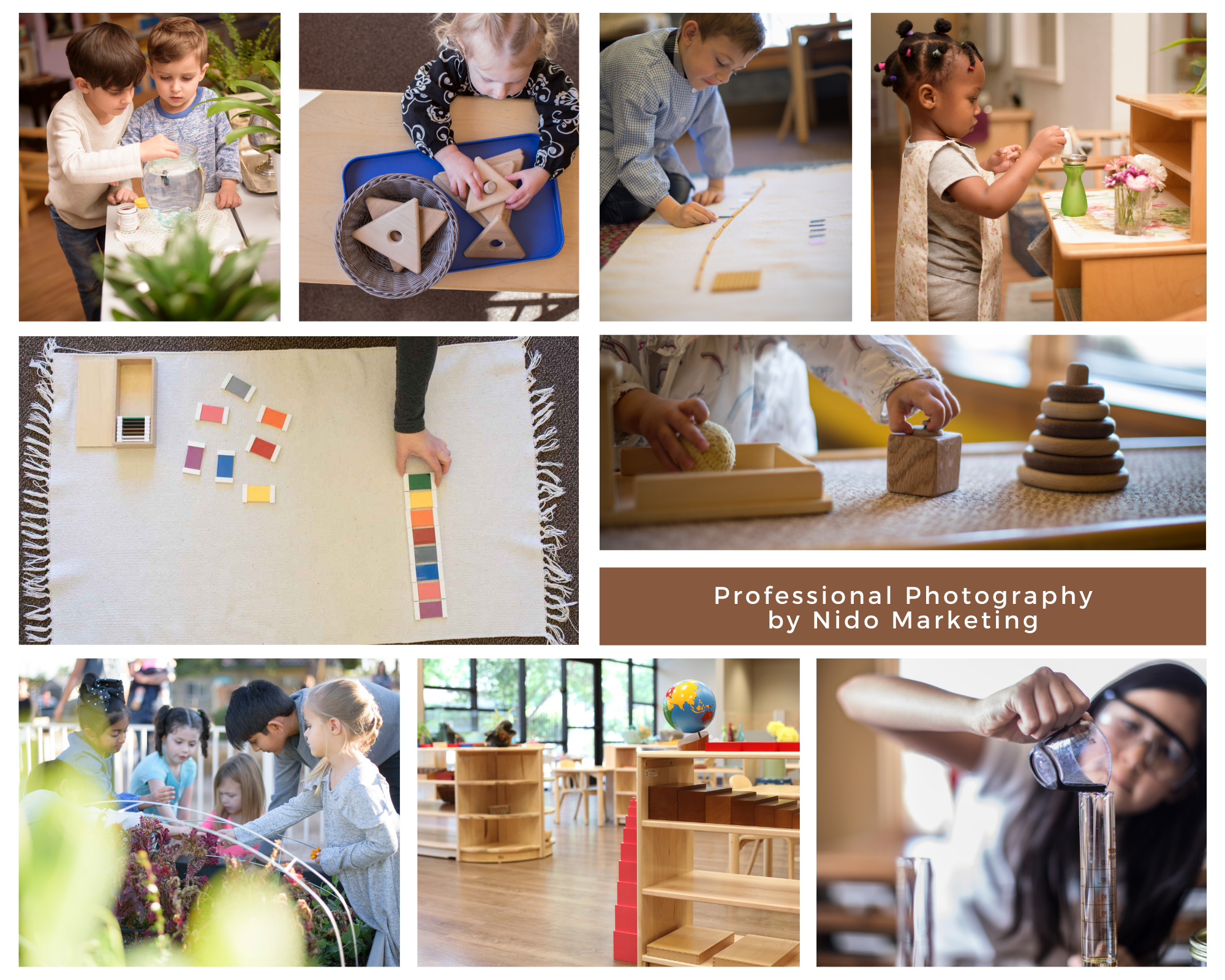 By enrolling in our Complete Montessori Marketing Plan with an annual subscription, Montessori Family School qualified for our free photoshoot service! Our Montessori photographer worked with them every step of the way, traveling to their location, arranging the day, and understanding how they wanted to capture their school in photos.  Now, in addition to having a great website with their own professional photos, automation, content, social posts, and ads, they also have a library of beautiful imagery to use for years to come. 
Google Ads That Target The Right Families
Once we built an effective school website that allowed visitors to engage with MFS, learn about the benefits of Montessori, and take action... we took the next step to reach even more families! This is where Google Ads come into play. By running and managing Google Ads for MFS, we were able to increase visits and conversions to the MFS website. 
We have years of experience creating and managing Google ads for Montessori schools. We understand the space, and we understand Google Ads. Our team is dedicated to optimizing your ad budget to produce more relevant clicks for your school. After working with MFS for a few months, we were able to target more families and help them grow their enrollment. We managed MFS' Google Ads to ensure their campaigns were effective and they were getting the best possible return on their investment. 
Content That Educates & Nurtures
When partnering with Nido Marketing, MFS gained access to our Montessori marketing content. This meant they could publish weekly Montessori blogs on their website, get unlimited graphic design support, use our Montessori stock photo library, and utilize our social posts. 
Posting regular blog articles on your website is an amazing way to educate parents and drive traffic to your website. It builds credibility, establishes your school as a thought leader, and it can start conversations through blog comment sections. You can push your blog articles out to your social media channels to grow community awareness of your school. You can highlight the blog in your weekly newsletter that is sent out to an engaged audience. Your school blog is a valuable marketing resource and we loved partnering with MFS to help them grow their school blog so they could engage and educate their parent community. 
Not only did MFS gain access to Nido's Marketing Content... they also gained a free membership to our resource and community membership site, Montessori Thrive. 
Here they were able to access a variety of resources for their school. Some of which include:
Parent education resources such as a bi-annual virtual parenting series, parenting videos, Montessori workshop slides, one-pagers, etc. 
Lead generators and White Papers

Courses for marketing 
A private school leadership forum for support and collaboration
Access to town hall recordings and live town hall events with Montessori thought leaders
Email nurture templates to communicate with prospective families and retain current families
Staffing resources to recruit and onboard new employees
School operation resources
Members can also request resources to be created! 
What The Future Holds
We hope to continue our partnership with MFS. Our aim will be to help them grow their enrollment so they can do what they do best... provide families with the highest quality Montessori education possible. We also look forward to working with more Montessori schools in the future. 
Would you like to partner with us to grow your enrollment? Schedule a free consultation call with a Montessori Marketing Expert today, no strings attached!
Schedule A Free Consultation Call!