St. Peter's Montessori School: How One Of Our First Clients Turned Their Website Into An Admissions Powerhouse!
Key Insights:
Founding Nido Marketing Member
Montessori CRM
Easy to Navigate Website
Automation
Content Services
About St. Peter's Montessori School
They have a long and committed history in Phoenix's west valley. Their church and school were established in the early 1960's and grew and changed as the local community of Litchfield Park grew up around it. Since they have opened, St. Peter's Montessori has grown and progressed from a one room building that served as the original all-in-one church, school and parish hall to their current campus which contains their beautiful church, Sunday school wing, parish hall, thrift store, multiple school buildings, and their newest addition—Celebration Hall.
St. Peter's Montessori School aims to provide their community with the benefits of a quality Montessori education. 
Believing In Nido Marketing From The Start
When Nido Marketing launched in 2017, we needed some brave Montessori schools who trusted our mission and were willing to partner with us to help their schools grow and thrive! St. Peter's Montessori School was one of our very first clients and has been with us for years. We have been able to grow alongside them over that time and it is truly a partnership that we are grateful for. 
As they aimed to complete their mission of providing children in their community with a high-quality Montessori education, Nido Marketing wanted to help them find more of the right prospective families so that they could grow their school. 
It Was Time For A New Website!
As digital marketers, Nido Marketing understood the power of having a great website. We were also aware that for most Montessori schools, websites were usually at the bottom of the to-do list. Schools were focusing their energy on classroom environments, serving their families, and providing great Montessori programs... which usually left little time for building websites and marketing. 
St. Peter's Montessori school's website was a bit dated and not working as well as we knew it should. We recommended that we build a new website to help them grow their admissions.
Nido Marketing was able to design a website for St. Peter's Montessori that is easy to navigate, on brand, and includes automation to save them time and make the admissions process more manageable. They worked closely with our client success manager so that they could receive support every step of the way. The result was a website that was smartphone and tablet compatible, easy for visitors to use, and reflected the incredible programs the school had to offer. 
A great Montessori website informs parents, helps them make an educated decision about their child's schooling, and allows them to take action!
"Nido created a new website for our Montessori school and the reaction has been extremely positive. We especially like the contact management aspect of our new site. I was assigned a personal representative to make sure our website met our needs and he's available to answer our questions and make changes that we require. We met (remotely) so he could show me how to control various aspects of our site."
-Timothy Quick, St. Peter's Montessori School
A Good Website + A Montessori CRM = A Match Made In Heaven
When Nido Marketing launched in 2017, we had a mission to help Montessori schools thrive through effective digital marketing. We knew that a website with automation would be a game changer for schools. A CRM (Client Relationship Manager) would help schools with tour scheduling, admissions tracking, and much more. 
When Nido Marketing built St. Peter's Montessori School's website, we integrated automation that helped them:
Automate tour scheduling
Gather important website lead contact information
Build their email list
Nido Marketing worked closely with St. Peter's Montessori staff to make sure that they received support as we integrated the new CRM into their website. While the CRM does a lot of work behind the scenes, it is important that schools learn how to make the most of all of the great features. 
Even through the pandemic, Nido Marketing was there to help St. Peter's with additional support with changing forms and updating their website to reflect any changes throughout COVID-19. 
Great Content Matters!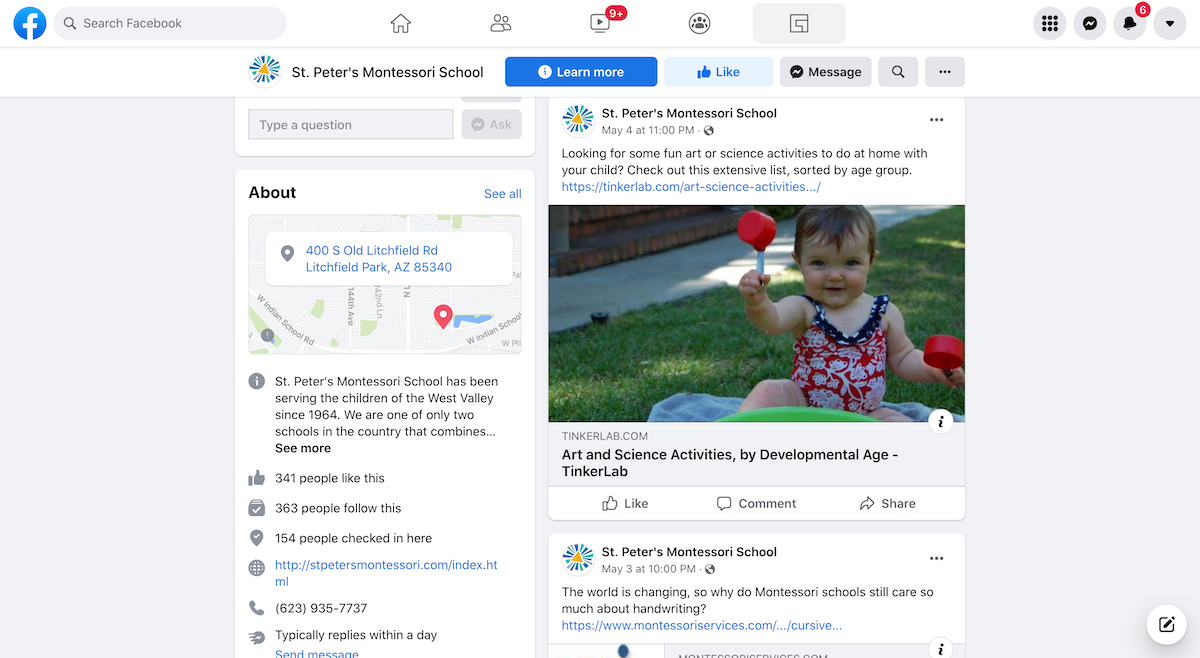 Having well-written and purposeful content on a school's website and across their social media profile can be powerful. It is important to post across platforms and utilize as many spaces as possible to educate families on Montessori and the programs your school offers. Unfortunately... coming up with content is time consuming!

When St. Peter's Montessori decided to work with Nido Marketing, a major perk for them was gaining access to Montessori content and social posting. They also hope to partner with us in the future to launch a Montessori blog on their website. Nido Marketing provides schools with an informative blog article per week to keep websites fresh with new content and to help them educate their parent community. 
"We also take advantage of their social media posting services. They find and post appropriate content daily to our Facebook and Instagram feeds. This keeps us active and visible on social media without taking the time necessary to find these great posts ourselves. We hope to begin a blog using their services in the near future. They also have many more resources specifically aimed at Montessori schools. I highly recommend Nido Marketing."
-Timothy Quick, St. Peter's Montessori School
St. Peter's Montessori School also gained access to
Montessori Thrive
, our community and resource exchange website where they had access to a library of school leadership resources including contracts, parenting courses, a school leadership forum, marketing resources, and much more! We launched this service in 2020 after we realized that access to resources and a sense of community and connection was pivotal for schools throughout the pandemic. Membership in Montessori Thrive is included with any subscription to Nido Marketing's services. This is our way of helping schools find support beyond marketing. 
Growing Together
St. Peter's Montessori believed in our vision and mission from the start. We are proud to say that Nido Marketing has been able to grow alongside their school. Since launching in 2017, Nido Marketing has been able to build many more successful websites for many Montessori schools. We've also been able to offer more new resources and services, just as St. Peter's Montessori has been able to build new buildings at their school. 
We aim to continue partnering with schools that share a mission of growing their admissions to serve more families with a great Montessori education. 
If you are curious to see how Nido Marketing can help your school, then schedule a free consultation call with our Executive Director today... no strings attached! We can show you how effective digital marketing can help you grow your school!
A special thank you to Timothy Quick from St. Peter's Montessori school for sharing your experience and feedback with us! We are grateful for our partnership with your amazing school.