5 Tips for Effective Montessori School Facebooks Ads
Facebook is the world's largest social media network, with over 2.89 billion monthly active users worldwide. 
When you think about that for a moment, it's no wonder roughly 5 million businesses choose to advertise on the social media site.
With a little time and effort, Facebook can be a powerful advertising tool for your Montessori school—one that can help you increase enrollment by reaching even more potential families.
In this blog we will take a look at how to utilize Facebook advertising effectively with the help of a few simple tips.
1. Go Beyond the "Boost"
If you've been running your school's Facebook page, you've probably seen the option to boost a post so that Facebook shows it to more people. You've maybe even tried it a few times. It's easy to do and can work toward increasing overall engagement with your Facebook page, but it typically doesn't help to increase your enrollment because it's not related to an overall strategy. 
Before you boost a post, ask yourself:
Does the post have a purpose?
Does the post have a clear call-to-action?
Does the post link to a solid landing page?

If you can't answer yes to at least one of these questions, we recommend going beyond the boost by creating a coordinated and effective campaign to bring mission appropriate families to your Montessori school. 
2. Get Set Up with Facebook Business Manager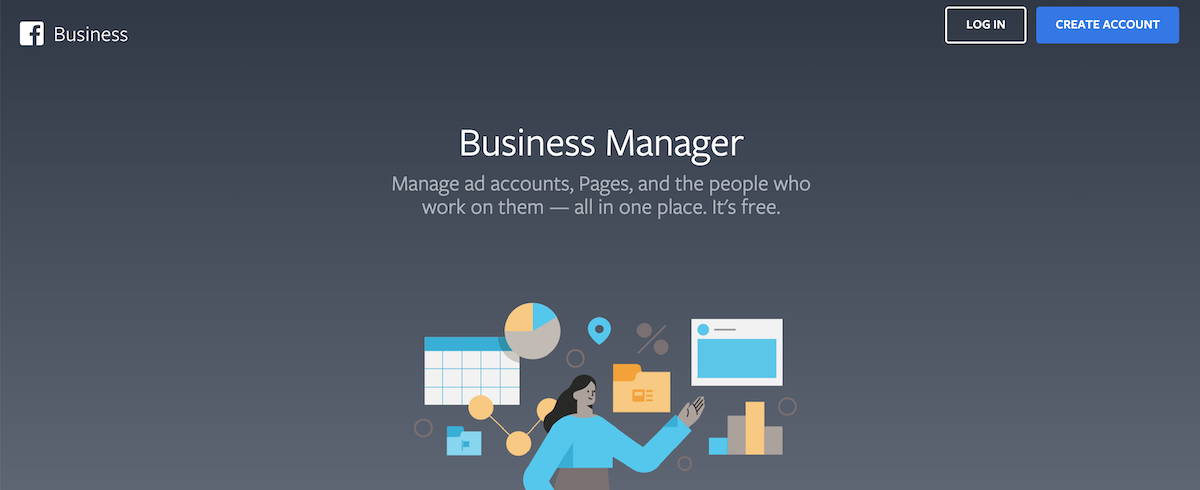 Before you can create your ad, you will need to migrate your Montessori school's Facebook page to Facebook Business Manager. This will allow you to manage your Facebook page and ad account from one location.
Good news: it's pretty simple!
Log in to Facebook and go to https://business.facebook.com. Here you will be prompted to provide some basic information about how your Montessori school uses Facebook.
Choose "Advertiser" from the list of options and complete the setup process. When you are finished you will be able to create your ad.
3. Advertise Relevant Content First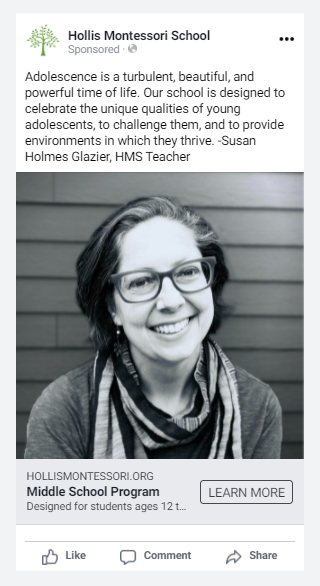 Creating an ad that is both interesting and visually appealing ad may seem like a challenge, but it helps to stay focused on your objective.
A common goal among Montessori schools is to increase enrollment and one of the best ways to do so is by encouraging families to tour your school and observe the benefits of a Montessori education.
With that goal in mind, keep your content as relevant as possible and focus on value. For example, lay out the specific advantages such as child-directed learning, multi-age groups, and uninterrupted work periods. You can even do this by linking to informative blog posts. 
Use short, simple statements that get your message across quickly, and always include a clear and easily visible call to action button that prompts families to schedule a tour or learn more.
Another great idea? Video ads. Videos are highly engaging and create a lasting impression on the viewer. They are one of the best ways to spotlight everything your Montessori school has to offer.
Running ads with relevant content will to draw people to your website, providing more opportunities for the type of engagement that leads to enrolled families. Your website should be well-designed with clear calls-to-action in order to encourage visitors to inquire, request tuition informaiton, or schedule a tour.
4. Take Advantage of Remarketing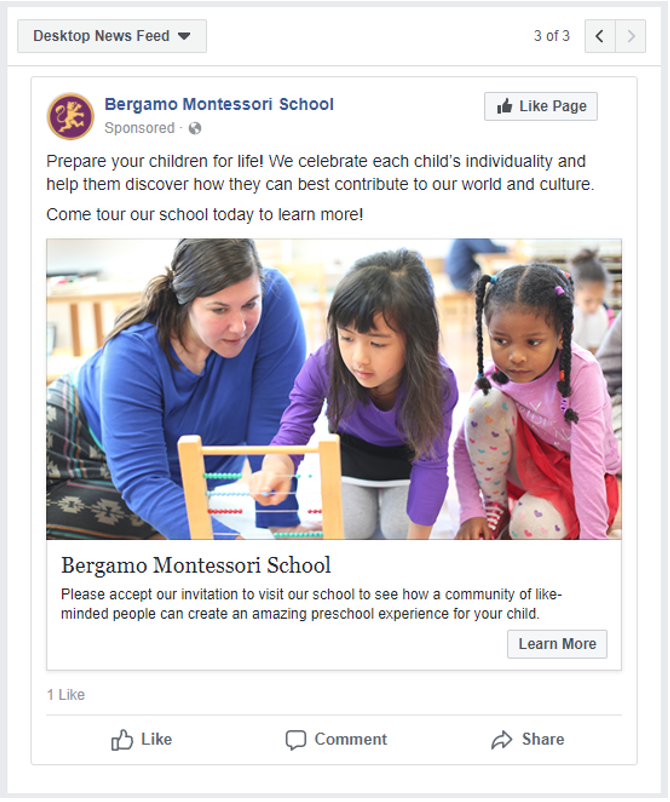 Remarketing is a very simple way to "touch" people who have already shown interest in your Montessori school by visiting your website. One of the primary ways Facebook allows you to do this is through a tool called the Facebook Pixel.
The general concept is that when potential families visit your site, a simple piece of code allows Facebook to remember their information. Then, Facebook will know to show your ads directly to those same people the next time they log in to Facebook.
Tailoring ads to encourage visitors to take a specific action on your website is the ultimate goal. Measurable actions such as requesting tuition information or scheduling a tour allow you to follow up with parents who are sincerely interested in your school. For this to succeed, ensure that your website's landing pages, forms, and thank-you pages are working flawlessly so that you can see what works best and gives you the highest return on your ad budget.

5. Target Effectively
Successful advertisers learn quickly the value of knowing their audience. Lucky for you, you have a head start when it comes to knowing who it is you want to reach and why.
Think about the parents of potential Montessori students and what it is they are looking for. Where do they live? What matters to them? How can your school meet their unique needs?
From there, you can take advantage of the useful targeting features built into Facebook Ads Manager, which allow you to effectively reach your intended audience based on the answers to each of those questions.
Why is this important?
By connecting with your target audience, a single, well-thought-out ad can go a long way toward driving enrollment by encouraging potential families to schedule a tour and experience first-hand the Montessori difference.
No Time to Think About Facebook Ads?
No problem. Our experienced team can manage your Facebook marketing strategy so you can focus on the day-to-day running of your school.