Montessori Center of Our Lady Runs At Least 8 Tours Per Week Since The Launch of Their New Website!
Key Highlights

Website Design
Customization
Website Forms
Automations
Montessori Content
Higher Enrollment

About Montessori Center of Our Lady
Montessori Center of Our Lady is one of over 30 Felician-Sponsored Ministries in North America.  They are part of The Felician Sisters Child Care Centers, Inc. and focus their attention on educating and nurturing children in a peaceful and faith-based environment.
Montessori Center of Our Lady, (MCOL), first opened its doors in 1976 with Sister Mary Paulita Bikowski, CSSF, as Head of School.  Its humble beginnings consisted of a few white painted tables and chairs and five students, ages 3 to 6 years, on the ground floor of Central Convent, in Livonia, Michigan.
Today, MCOL is in a state-of-the-art building with six classrooms and a capacity of up to 140 students. In November 2020, MCOL opened its Young Children's Community (Toddler) Classroom for children ages 18 – 36 months. They look forward to expanding their curriculum to include children 3 – 18 months with the opening of a Nido (infant) classroom in September 2021.
MCOL embraces and embeds its Core Values of Ministry, including Respect for Human Dignity, Compassion, Transformation, Solidarity with the Poor, and Justice and Peace, into its curriculum and daily practices with its teaching team, administration, children, and families. MCOL follows the example of Blessed Mary Angela, founder of the Felician Franciscan Sisters, by "caring for children." They have a long history of educating children intellectually, emotionally, socially, and spiritually for nearly 45 years. 
Why Nido Marketing?
MCOL had a clear vision and mission, as well as an incredibly dedicated administrative staff. The academic experience they offered families was top of the line, they just needed to get prospective parents through the door to see what they had to offer. That is why the Head of School, Laura Bengel, reached out to the Nido Marketing team. She wanted to talk to marketing experts who understood the unique offerings of a Montessori school. 
After Nido's initial meeting with Laura, it was clear that a new website would go a long way when it came to meeting their enrollment goals. What MCOL needed was a website that was in line with their brand, easy to use, and had automation that would make it easy and seamless for parents to sign up for school tours. It was time to work with the experts!
Collaborating To Create The Perfect School Website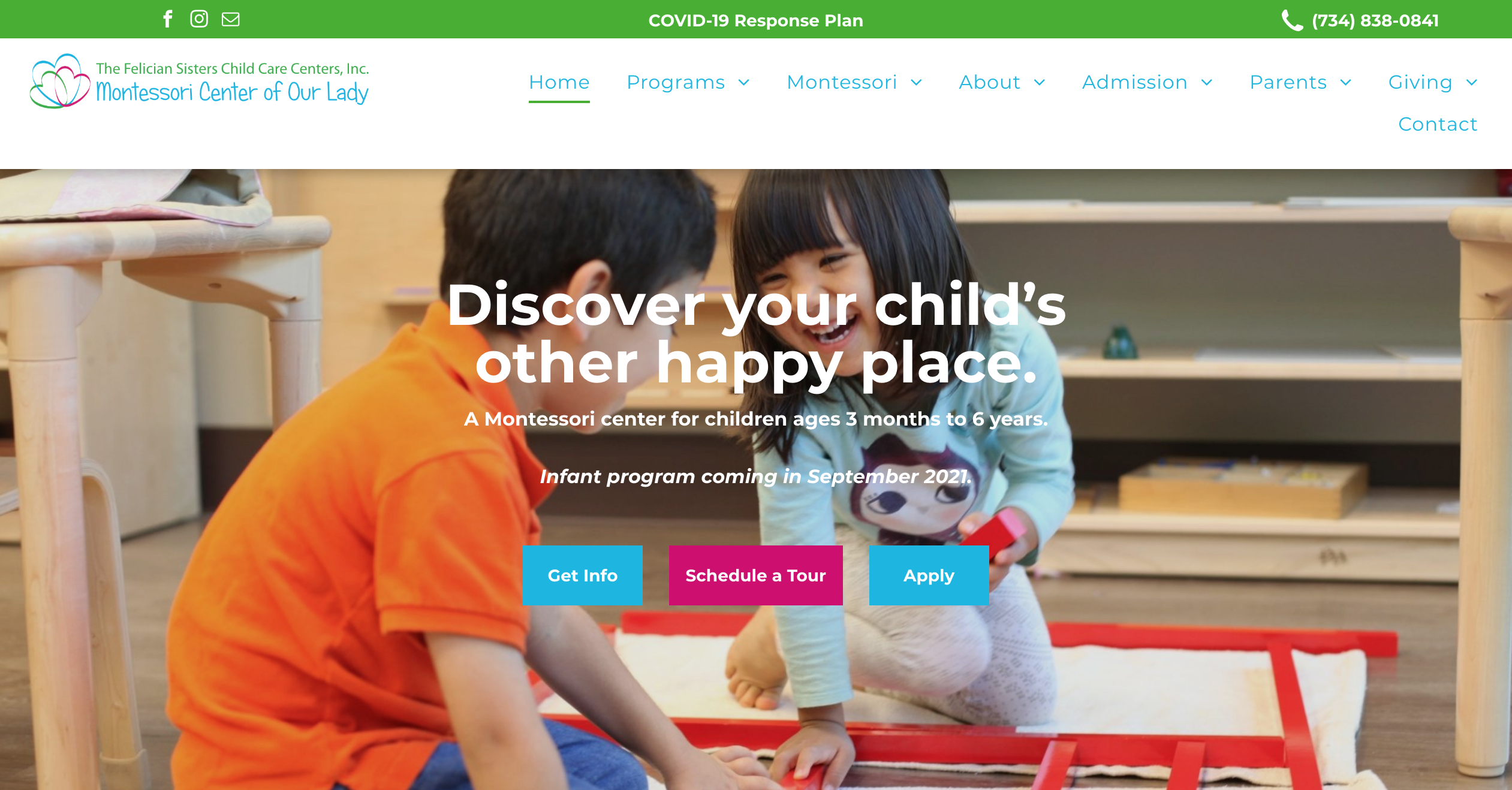 Nido Marketing's partnership with MCOL was successful because Laura and her team collaborated with the overall design every step of the way. This assured that the new website reflected their brand, their values, and their needs effectively.
The Nido Marketing Website process is simple:

It took 30 days to build, customize, automate, and add content to MCOL's new website. Close collaboration assured that the website checked all the boxes for MCOL. Once it was completed, it looked great and functioned well on a desktop, tablet, and smartphone, so parents would have a positive experience on the site on a variety of devices. 
Where Nido Marketing really stands out is with ready-to-use Montessori content. Writing and creating content for a school website can be very time-consuming and costly if you have to hire a writer or a professional photographer. With the Nido Marketing Website Package, website content is provided, including Montessori program information and high-quality Montessori images. 
"The content was phenomenal. The key points we had targeted were well addressed and reader friendly! Our website authentically reflects our school, making the meeting for the tour seamless." -
Laura Bengel, Head of School
Tours Are Just A Click Away With Online Scheduling
When a parent visits a school website that is hard to navigate and doesn't have a clear call to action, you risking giving a bad first impression and losing them before you have had a chance to show them your school. This is why it is so important to have well-placed calls to action to schedule a tour on your website. Once prospective parents have a chance to meet you and tour your school, Montessori sells itself! Your call-to-action "Schedule a Tour" button should be front and center, completely unmissable.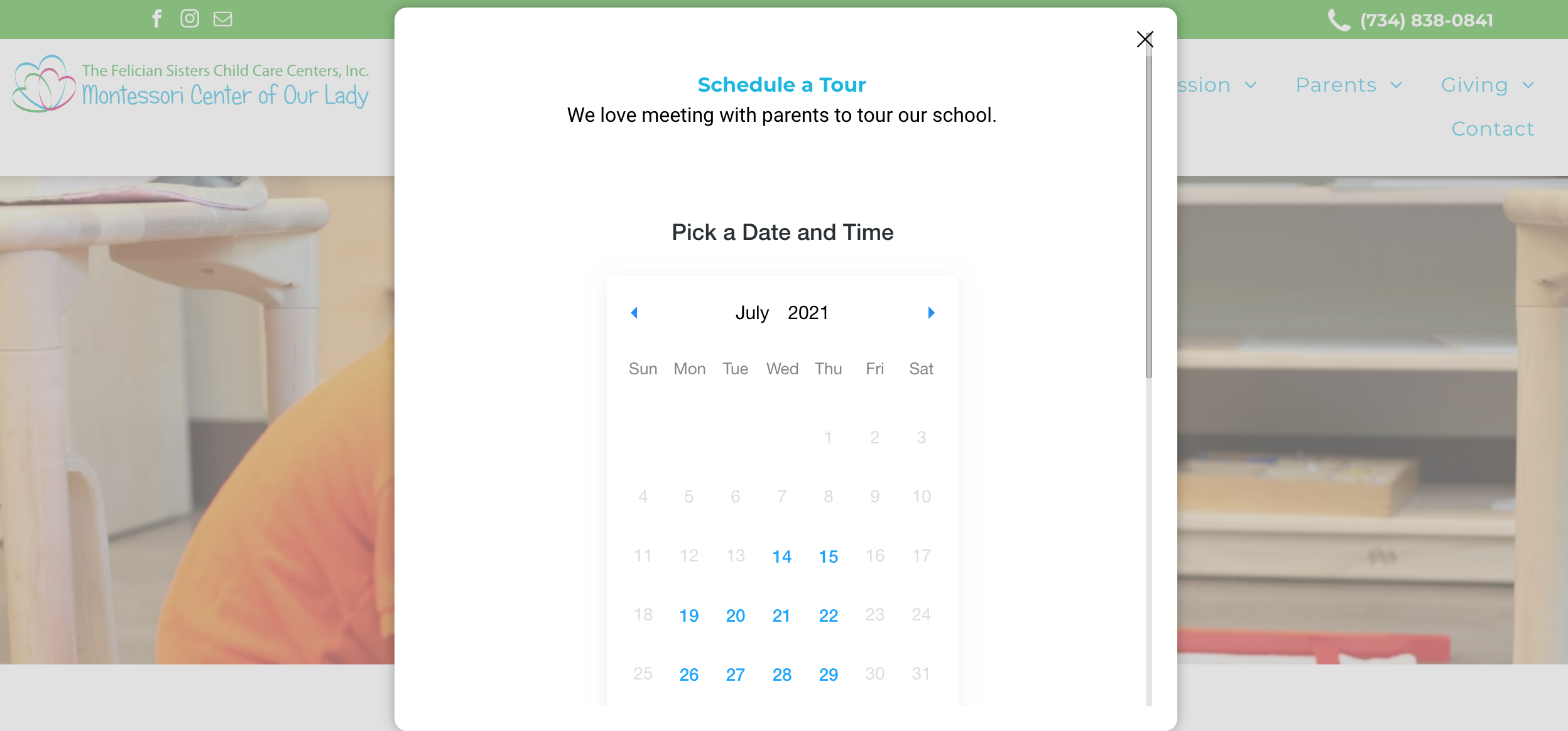 Nido Marketing's solution is to set up easy-to-use calendars that work based on your availability so tours can be set up seamlessly to accommodate both the school's and the prospective parents' schedules.
The work doesn't stop after the website launches. The Nido Marketing maintenance team monitors the site's automation to assure that your website visitors have the most user-friendly experience possible. 
"It's worth mentioning your team remains approachable prior, during, and after the website goes live. Personally, I find the depth of knowledge and your genuine willingness to help us succeed to be invaluable. It's comforting to know you are never more than an email away with ideas and support." - Laura Bengel, Head of School
The Tours Just Keep Coming!
Since the initial launch of the MCOL website, Laura has seen a spike of tours... and they are still going strong! MCOL has had at least 8 tours a week since the new website went live. That translates to higher enrollment!
The administrative team at MCOL can focus on providing the highest quality Montessori education to their current families while their website brings in the leads they need to grow their enrollment. 
"Do not underestimate the value in a marketing company designed specifically for Montessori schools creating a website that is created for you, both from a place of authenticity and a sophisticated marketing tool. The first impression is through your website and Nido Marketing turned us around even in the midst of a pandemic" - Laura Bengel, Head of School
Nido Marketing looks forward to continuing a partnership with MCOL and providing them with the highest quality Montessori website possible so that they can continue to provide the highest quality education to those within their community. In the Fall of 2021, MCOL is expanding and starting a new infant program. We are excited to join them on a journey of growth!
If you want to learn more about how you can have a website that brings in more tours, you can book a free consultation with us today!
You can also explore our website service to review our templates, learn more about our content options, and see what a website upgrade can do for your Montessori school.