Build Better Relationships, Save Time with Automated Email Nurture Sequences
Increasing enrollment in Montessori schools is all about relationship-building.
And relationship-building comes in many forms – it's in the way you advertise on Facebook, it's the information you post on social media, and it's the way you communicate with new leads and interested families through email nurturing sequences.
This may sound like a lot of extra work, but with automated emails, it isn't.
In fact, automated emails are a time-saving, effective way to connect with prospective families who already expressed an interest in your school.
First things first: What is an email nurture sequence?
An email nurture sequence is a series of follow-up emails that build a relationship with your school's target audience (i.e. parents and families interested in learning more about a Montessori education).
You're not selling anything or trying to overtly convince them to come tour your school, but you are sharing information that is valuable and educational to your audience.
The goal of these emails? To build a relationship on trust that may turn into a school tour, which may become an enrolled student.
What are automated emails? And how do you make them, well, automate?
Most Montessori schools have two main email contact lists:
Current families
Prospective families
Current families probably receive newsletters, important emails about tuition, and exciting events in a bulk batch that you personally write, design, and schedule through an automated system like MailChimp (one of our favorite free ways to connect with people).
But what about prospective families?
Every time you receive a new email address from a prospective family — whether from a Facebook ad, PPC campaign, or organic inquiry — you add that contact to your "prospective family" email list.
Then what?
Right now, maybe you have a templatized introductory email that you manually send to each new contact.
That's still a lot of work for a pretty non-personal email.
Well, automated emails are a series of emails that are sent to specific contacts based on criteria you select, and as your contacts "trigger" certain options, MailChimp sends out new emails in the sequence.
For example, when a prospective family requests information about tuition rates at your school, an automated email sequence sends a "Thank you for your interest in our school! Our tuition schedule is attached" email. Then, a couple days later, the automated sequence might send out a follow-up "Can we answer any questions?" email, and so forth.
Much more responsive, personal — and a whole lot easier.
Setting up automation in MailChimp is easy.
First, decide what type of automation you want to use.
A Subscriber Activity automation sends emails based on signups and other changes to your email list. So, when someone signs up to receive your tuition schedule, as described above, it triggers the series of automated emails.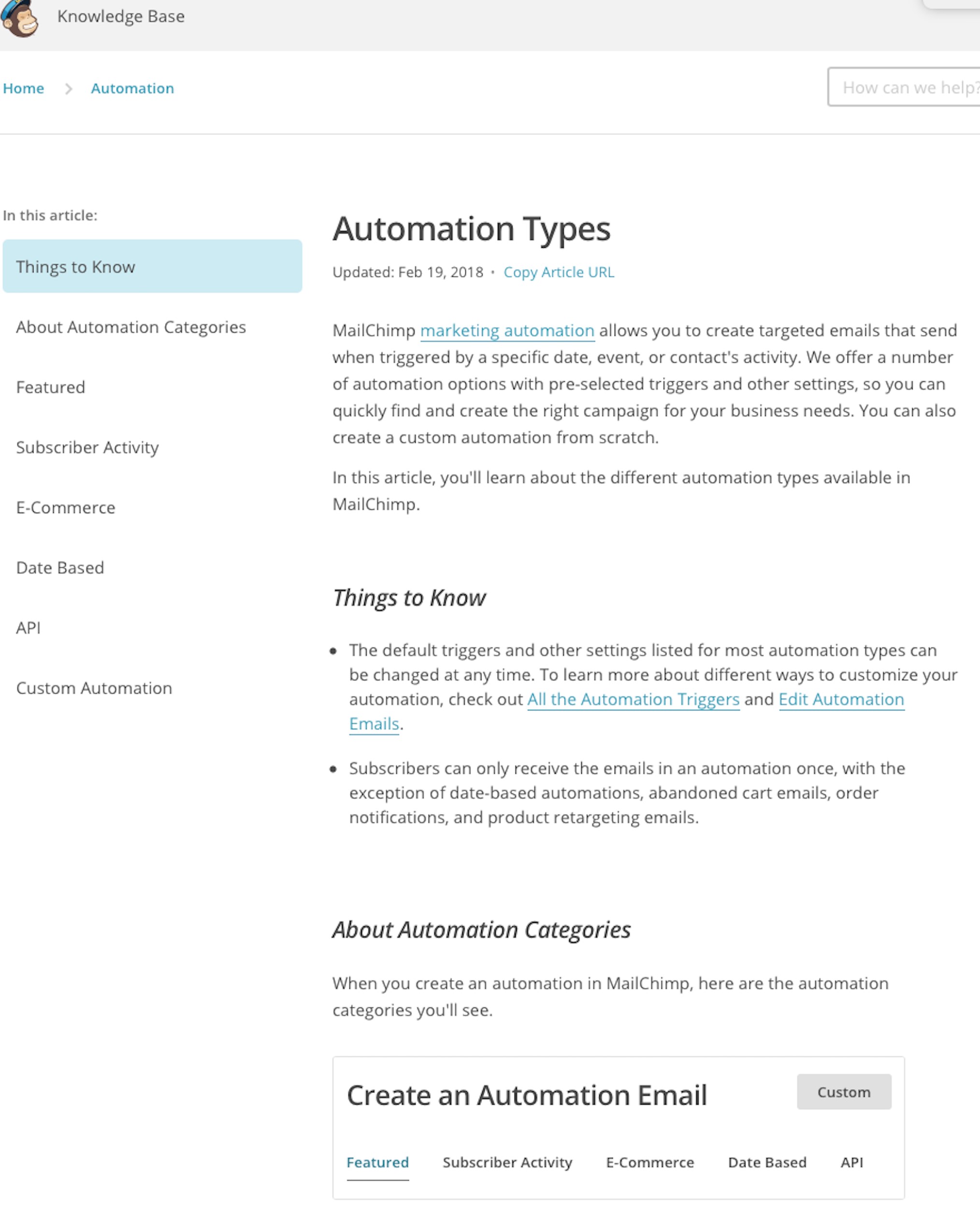 When you select Subscriber Activity as your automation type in MailChimp, it's preloaded with default triggers. In this case, the first email that goes out welcomes the new subscriber to your list.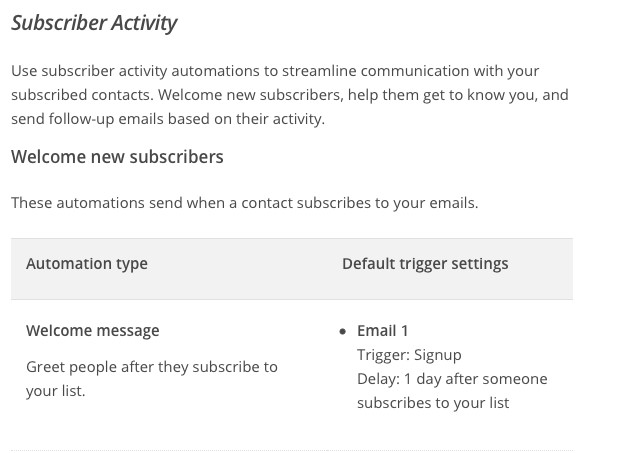 Visit this page in MailChimp to walk you through the steps to create an automated welcome email. Create a campaign so MailChimp sends a welcome message to anyone who subscribes to your list. Select a design for the email, add content, edit triggers, and schedule emails and other actions.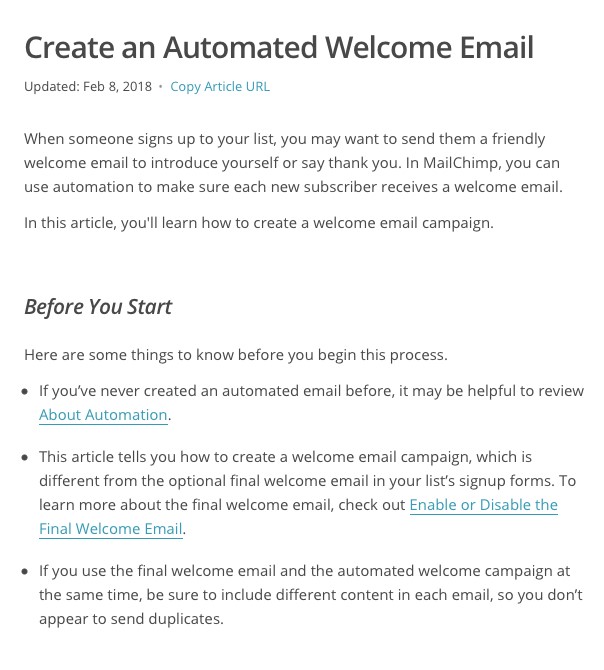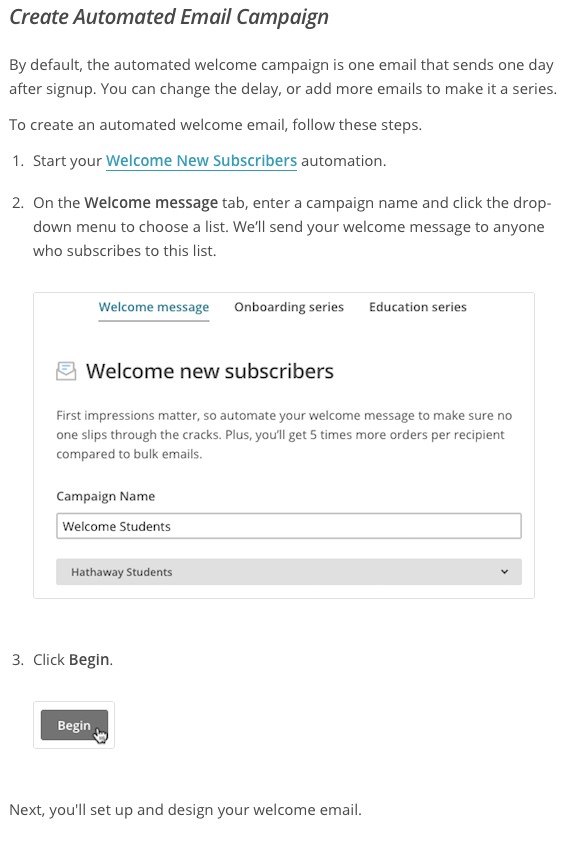 You can also choose to create an Education Series of emails that welcomes the new subscriber to your list, then sends a series of emails to engage and inform your subscribers about the benefits of a Montessori school education.
What you need to provide:
Content. Valuable information about education, Montessori education, parenting – you name it. You're the expert.
Share information about the most common questions prospective families ask you about your school or the Montessori philosophy in general. Link to a helpful video that answers a question for them. Send a fun quiz to "test" their knowledge of the Montessori environment.
Automation. Set up an automated email sequence in MailChimp so while you're busy running the school, an email automatically goes out to parents requesting tuition schedules or requesting to schedule a tour.
We want to help you simplify your marketing efforts so they continue doing the work to help bring more families to your school, even when they are visiting your website at midnight on Friday. Email automation can do that.
If you'd like some help getting started, join our free community, check out our helpful blogs. We're here to help with all aspects of Montessori marketing and automation.