The Montessori Marketing Funnel Map: A Proven-Effective Approach to Increasing Enrollment
Anyone who's been involved in sales or taken a marketing course knows that sales funnels are nothing new.
The concept is simple:
Draw prospective customers (families) into the "

top of the funnel

" with interesting content (like blogs and videos about the Montessori Method).

Keep them engaged once they're in the "middle of the funnel

" with more thorough resources about your school (think fact sheets and targeted emails).

Hopefully, these prospective families stay interested and engaged, arriving at the "bottom of the funnel

" — meaning they opt for a school tour and become fully converted Montessorians.
Your website should include content that caters to each prospective parent's stage of interest — from discovery (top of the funnel) to consideration (middle of the funnel) to enrollment (bottom of the funnel).
How Do You Ensure Your Website Provides the Right Content for Each Stage of the Sales Funnel?
It helps to use a map or outline, like this: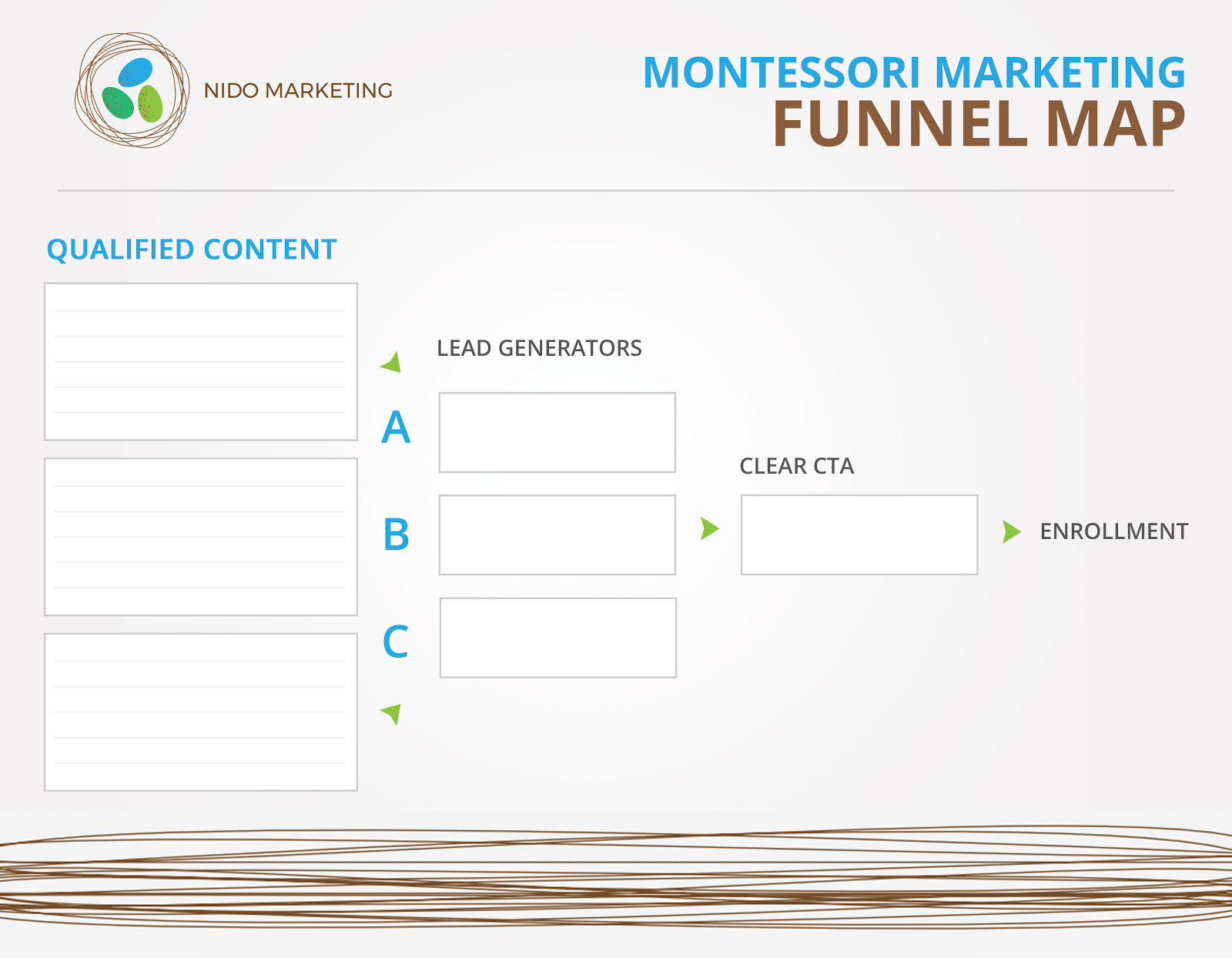 Above is our Montessori Marketing Funnel Map, which breaks down the typical journey of an online visitor.
As you can see, our map is merely a funnel laid on its side, with "Qualified Content" forming the mouth and "Enrollment" representing the end, or desired, result.
Let's break each stage of the funnel down:
Qualified Content
In the world of digital marketing, "content" is often in the form of blogs, videos, landing pages, social media posts, or infographics (to name a few); essentially, anything consumed on your website.
Content grabs attention, educates, and persuades the online visitor.
Qualified content is content aimed at a particular audience. For Montessori schools, that means qualified content is directed toward (and benefits) parents of school-age children.
Examples may include:
A detailed blog that discusses the Montessori Method

A video tour of a Montessori classroom

An infographic depicting a typical day at a Montessori preschool

A social media post announcing a Montessori school open house

A landing page featuring short testimonials from Montessori graduates
Each example should educate and inform the prospective parent while keeping them interested and engaged.
If qualified content is doing its job, prospects are drawn further into the funnel, where they are prompted to make their first conversion, or quantifiable action, on their journey toward possible enrollment.
But we'll talk more about that next.
Learn More About the Right Content
For Your Montessori School's Website HERE.
Lead Generators
Simply put, the purpose of the lead generator (also known as lead magnets) is to persuade prospective parents to give you their contact information, whether in the form of an email address, phone number, or both; usually in exchange for something of "value."
Lead generator examples include:
Downloadable Montessori worksheets for children

An invitation to attend a Montessori workshop or seminar for parents

A chance to win a copy of

The Discovery of the Child

by Maria Montessori (or other relevant book/prize)

A simple "request more information" web page

Opt-in to receive emails with helpful parenting advice and links to quality, pertinent content
Often, eCommerce websites offer a discount coupon in exchange for contact details, which you can make use of too; for example, offering a code for a reduced application fee in exchange for the parent's email address.
Remember, don't be discouraged if your first lead generator doesn't work right away. Either you have to get more traffic to your website or you'll have to test other lead generators to find one that really works.
However, once a lead generator is deemed valuable enough by a prospect, they should have no problem traveling a little farther down the funnel and heeding your CTA (call to action).
Need help with finding ideas for lead generators for your Montessori school?
Join our Facebook group for community input, or get in touch with us: support@nidomarketing.com.
Clear Call To Action (short: CTA)
Your call to action is nothing more than a request or (polite) demand for contact information. CTAs can come in several forms, but they should all be short and crystal clear.
An effective CTA might read:
Schedule a tour

Get your free sample

Click here to register for our free course

Click "Enter" for a chance to win

Click this link to schedule a tour

Enter your email address to receive our monthly newsletter

Click here to download free Montessori templates
Here are a few examples of CTAs from our own website:


And here are a few examples of CTAs from other Montessori schools:
Clicking this button opens up a pop-up from Calendly to schedule a tour right away. This sends a message to the school administrators informing them of the scheduled tour.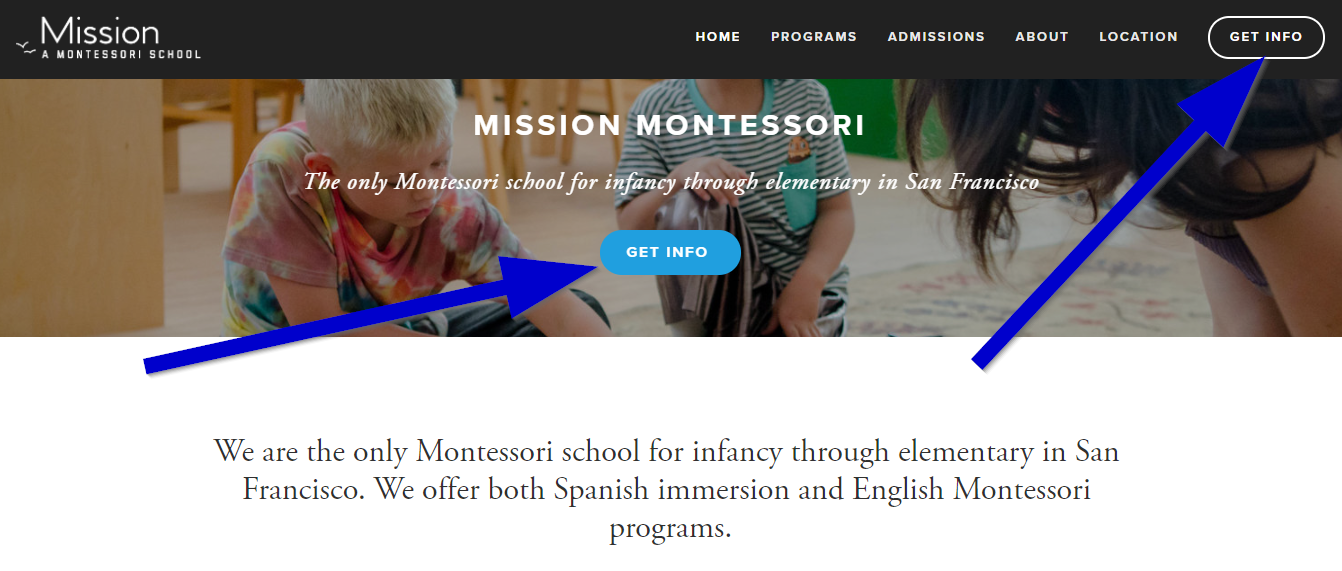 The "Get Info" button redirects parents to a page to enter their contact information.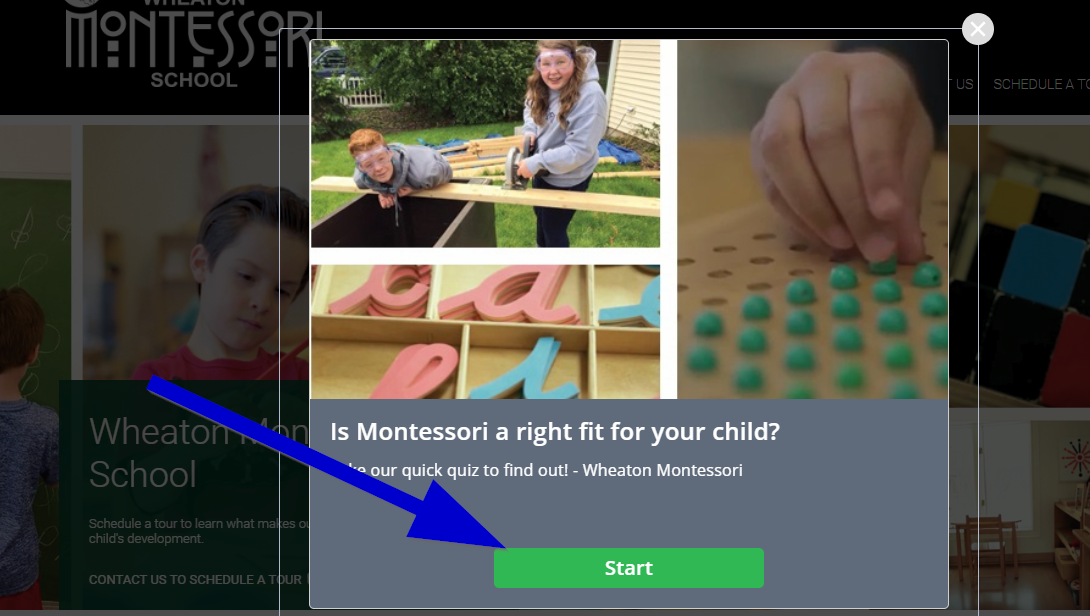 Wheaton Montessori School's homepage includes a pop-up box, which only appears when a visitor's cursor hovers to the top of the page (intent to exit).
The "Start" button leads the visitor to a quiz, "Is Montessori a right fit for your child?"
The CTA is clear, relevant, and interesting for parents who may not be sure if the Montessori method is right for their child.
No matter the CTA, always remember:
Once you have a visitor on your website, it's crucial that they understand the next step — or you'll lose them.
And don't be afraid to appear intrusive; parents landed on your page because they are looking for a solution for their child. By educating them with your content and suggesting a "next move" (i.e. a CTA) — you're actually making their selection process (and life) easier.
Co-founder, Kasim Aslam, wrote an excellent article,
"Why we can't afford to be afraid," if you want to read more.  
Enrollment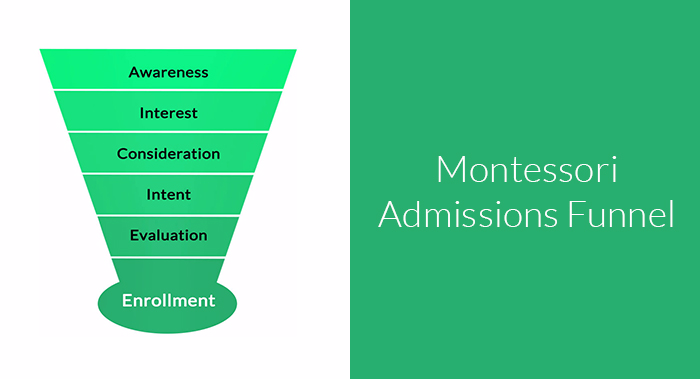 Now that you've piqued your prospective parent's interest, moved them to take action, and guided them this far down the funnel, it's time to go for the ultimate conversion and turn your well-earned leads into official, tuition-paying Montessori parents.
You can begin the enrollment process with an email or phone call, or at an open house or home visit — as long as you master the methods in the Nido Montessori Marketing Funnel, chances are you won't run out of viable leads any time soon.
And if you're thinking, "easier said than done," remember this:
You are offering a gift to your community.
Those unique Montessori minds grow to be versatile, contributing members of our society. Parents and students alike feel the joy of learning and living the Montessori method each day.
And by guiding new, prospective families along in their research (and down the funnel), you can ultimately bring that sense of joy and community to their lives.
But You Don't Have to Do It Alone
You can sign up for a free Nido Marketing membership and join our community forum for ideas, guidance, and support.
Ask questions and get actionable insights from real Montessorians around the world.