Lead Magnets: Why No One Wants Your Newsletter (and What to Do Instead)
Here's the harsh truth: no one visiting your website wants your newsletter.
Or to say it more accurately prospective parents looking for a school to educate and develop their child to reach their maximum potential are not interested in signing up for your newsletter.
They need you to solve a problem or give them some kind of value.
If you don't (or if it isn't obvious to them that you do), that prospective parent will quickly disengage and look somewhere else.
I'm sorry to be so blunt, but this is the truth in today's digital landscape where attention spans are decreasing and the number of options for parents are increasing at a staggering pace.
They just simply don't have time to sign up for your newsletter. What value does that give them?
Instead, you need to start offering a Lead Magnet (also called a Lead Generator).
What is a lead magnet?
A lead magnet is something of value you offer in exchange for contact information. For example, a good lead magnet could be a download of your tuition rates, an example daily schedule, or tips on how to incorporate Montessori into the home.
The goal is to give your website visitor something useful enough that they don't think twice about giving you their email address — they just want the information you're offering.
Here are a few examples: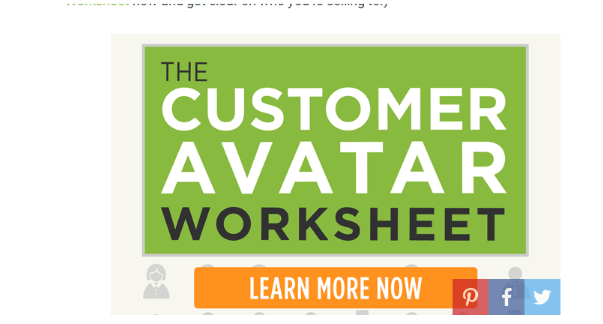 This is lead magnet is found on DigitalMarketer.com at the end of one of their blog posts. They just finished talking about the importance of lead magnets (go figure) and knowing your customer. At the end, they offer a worksheet to help you understand more about your target audience called "The Customer Avatar Worksheet." In order to download it, you have to give your email, but most people don't even notice.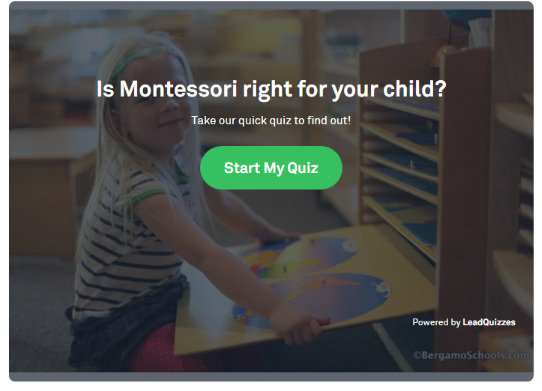 This lead magnet is from BergamoSchools.com.
When a user is about to leave the website, this quiz appears. It's relevant to most individuals visiting this website and in order to take the quiz, they need to give their email address.
Again, most parents don't even notice because they're too interested in finding out if Montessori is right for their child.
The key to creating a great lead magnet? Ask yourself: what do my website visitors want to know?
Empathy, Empathy, Empathy
The better you answer this question, the better your engagement will be and your email list will grow with highly-qualified parents; parents who digitally raised their hand and said, "Please talk to me. I want what you have to offer."
For this to work, you need to understand website visitors' pain points and goals:
What questions do you get asked all the time?

What problems do parents come to you with, hoping you can help solve for them?

What would you, as a prospective parent, want to know about your school?
This is especially important for Montessori schools because of the general lack of knowledge the general public has about Montessori education. We need to take on the mantle of providing valuable, accessible information that parents easily understand.
You can bring value to their world. In exchange, you get the opportunity to connect with them and potentially solve a major problem in their lives by educating their child through the Montessori method.
That's the key to engaging prospective parents, generating interest, and ultimately, increasing enrollment.
 -----
This is one lesson of a comprehensive video course called "Digital Marketing Fundamentals for Montessori Schools." To take the course, sign up for our free membership at NidoMarketing.com/free