Building a Brand: A New Identity for The Mosaic Field School
Key Insights
Graphic Design
Branding & Identity Process
Communication & Customer Support
Montessori Marketing
In the world of Montessori education, where every learning experience is thoughtfully designed to nurture young minds and inspire lifelong learning, one element often underestimated is the power of branding. Just as the Montessori method itself is a carefully crafted approach to education, a well-developed brand for a Montessori school holds the potential to shape perceptions, build trust, and create a lasting impact on students, parents, and the community.
Here at Nido Marketing, we pride ourselves in being the only digital marketing agency that works exclusively with Montessori schools, and one of the services we provide is Graphic Design and Branding. We understand the Montessori and digital marketing space and are able to navigate through the intricacies of building an identity within the Montessori context, unraveling the layers that contribute to a school's unique identity. In this case study, we share one school's branding journey. We were fortunate to partner with The Mosaic Field School in Suwannee, Georgia — a Montessori school looking to offer unique and high quality programs to their local community.
About The Mosaic Field School
The Mosaic Field School is in the midst of their start up planning. Before opening their doors and welcoming students, they wanted to build a strong foundation. Their emphasis has been on refining their mission and vision, centered around crafting an all-encompassing, cooperative, personalized educational setting for students aged 12-18, using a Montessori approach. They aim to deliver top quality programs which draws on a mosaic of mentors and experts, real-world environments and experiences, and the mosaic created by the gifts and interests of each individual student. 
When they reached out to the Nido Marketing team, they were interested in partnering with us craft their identity in the form of a new logo and branding. We were excited by the opportunity to help this incredible start-up school create design assets that they would use to define a visual identity and differentiation from other schools in their area. Branding is a great place to start when it comes to a marketing journey, and we were thrilled to embark on this exciting beginning with The Mosaic Field School.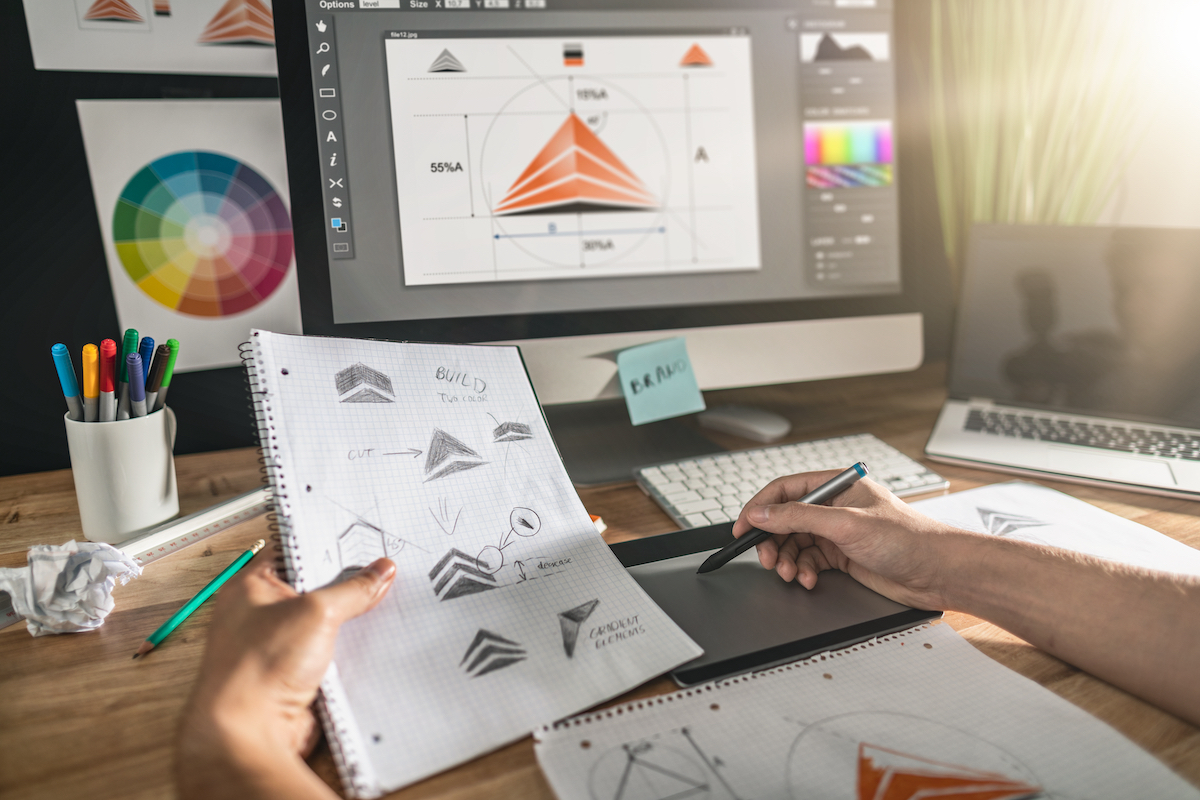 Building a Brand
A school's mission, vision, and values should always be at the forefront of their branding journey. What a school sets out to do is what sets them apart, and Mosaic had a very clear vision of what they wanted their school to provide families. Our Graphic Designer worked closely with the team at Mosaic to make sure that we were able to accurately capture their brand essence.  
Designing a brand logo and creating branding for a Montessori school involves a thoughtful and strategic process. Here's a step-by-step outline of the branding process with The Mosaic Field School:
1. Define The Brand Identity
Clearly articulate your Montessori school's mission, vision, and core values.
Identify the unique aspects of your school's approach to education and the learning experience you offer.
Gather insights about their target audience, including parents, students, and staff.
During this phase of the branding process, we thoroughly studied Mosaic's brief, what their goals as a school community were, and who they were targeting. There was a lot of communication with the Mosaic team in order to ensure that we understood their vision. 
2. Conceptualization
Brainstorm ideas that reflect the essence of Mosaic's educational approach and school identity.
Consider symbols, imagery, colors, and typography that align with Montessori principles and evoke the desired emotions that Mosaic envisioned.
3. Design & Artistic Process 
Create rough sketches and drafts of identity concepts based on the brainstorming.
Develop digital versions of the most promising concepts.
Select color and typography for different branding options.
Our graphic designer mocked up several different designs and concepts for The Mosaic Field School. This way, the school could view a variety of options and follow a revision process toward the ultimate solution. Here are a few of the design options that Nido Marketing's Graphic Designer mocked up: 
Option One:
Option Two: 
4. Feedback and Refinement
Share the logo concepts with Mosaic.
Gather feedback and make necessary adjustments to refine the logo design.
After seeing the first few mockups, Mosaic decided that they wanted to go with more earth-toned colors. They liked the concept of taking a literal approach to the Mosaic name and have a logo that looked like a mosaic. They felt this was memorable and helped them stand out. 
"The important thing was that Gabriel was very responsive to every suggestion and tweak to the design, and he kept working at it until it was just right."
- Kelli Jones, Mosaic Field School
Our Graphic Designer, Gabriel Salas, took the notes and feedback that the Mosaic team offered. He mocked up a few more designs that included nature, and earth tones. Here are the the designs he created after the feedback. 
5. Finalize Logo Design
Choose the final logo concept based on feedback and refinement.
Ensure the logo works well in various formats and would work on a school website, in black and white, on t-shirts, business cards, brochures, etc. 
While Mosaic liked the logos that Gabriel provided after the feedback, they wanted some slight changes in the colors. After the final round of feedback, we were able to provide Mosaic with a logo and branding material that they were happy with. 
6. Design Application
Apply the logo and branding elements to various collateral, such as stationery, business cards, brochures, and signage.
Design templates for digital materials, including social media profiles and website.
Provide branded graphics and colors for school website and any other marketing materials. 
Now that the Logo design is finalized, Nido Marketing can provide an array of design assets for The Mosaic Field School. This will help them kickstart their marketing journey as they aim to open their doors and attract new families.
Their new logo will help give their school instant recognition, recall, and build an emotional connection with their target audience. Here's what the Mosaic team had to say about the school branding experience with Nido Marketing: 
"What happens when you take a fledgling business owner with big dreams and lofty ideas but with merely a gut instinct for the essence of her school's marketing image, and you add a company full of people who listen, have the industry and technological expertise to deliver high quality graphic design products, and have both patience and tenacity? For The Mosaic Field School, this was a recipe for a successful branding process. Nido Marketing's staff listened to our needs, took the time to fold in each new idea and alteration, and kept working with us to craft a design that communicated what we are about as a school. The typography, the color palette, and the graphic art: each element was carefully considered, presented, and refined until it was exactly what our company needed to put our best foot forward in the marketplace. It has been a pleasure to work with an organization who has a deep knowledge of the Montessori school environment but also takes the time to understand our unique situation. Thank you, Nido Marketing, for being an integral part of our start-up team!"
- Kelli Jones, Mosaic Field School
We have really enjoyed our partnership with The Mosaic Field School and look forward to them opening their doors and classrooms to students with a love of learning. We feel confident that with their branding, they will be able to reach and resonate with the right prospective families and build a wonderful community. We hope to grow alongside Mosaic and continue helping them with any digital marketing needs they have. 
Are you interested in being our next branding success story? We are happy to partner with your Montessori school and provide the graphic design services you need. You can learn more about our graphic design services here. 
Want to be our next success story? Schedule a FREE marketing consultation today & start your Montessori marketing journey!