How Nido Marketing Helped The American Montessori Preparatory School Start A Waitlist
"It's almost scary how effective the website is.  We are at capacity and still people are signing up for tours." 
- Shaun Glicksberg, American Montessori Preparatory School
Key Highlights

Website Design
Customization

Montessori Content
Automation
Tour Scheduling and Management

About The American Montessori Preparatory School
The American Montessori Preparatory School (AMPS) is a Montessori school based in Tampa, Florida, offering Dr. Montessori's complete curriculum. AMPS's Director has been a certified Montessori teacher since August 2001. She has also been trained in the International Baccalaureate (IB) program and strengthens the international aspect of Montessori with the global perspective of IB. She, along with the rest of the school's dedicated staff, works diligently to make sure the children in their community receive the highest quality Montessori education possible. AMPS students develop a love of learning that is driven by joy and curiosity and develop an intrinsic desire to understand the world, be a part of the community, and become their best 'self' possible. They believe that Montessori offers the best investment in a child's education.
"Through the use of our intelligence, diligence, and compassion, we will create a better, more peaceful world, guiding our future leaders as they create a new humanity." 
-The American Montessori Preparatory School
Why Nido Marketing?
AMPS became a Nido Marketing client in July of 2021. Prior to choosing Nido Marketing, AMPS had a professionally built business website. This caused issues from early on and it became clear that they needed a website that was more tailored to the unique needs of a Montessori school.
This is where Nido Marketing became the perfect partnership for them! Nido Marketing works exclusively with Montessori schools and offered a website package that was less costly than what AMPS was previously paying. This was huge for AMPS because they were looking for a Montessori website with automation that could make their day-to-day life easier.
Through the use of automation, great Montessori content, and a well-designed website, AMPS was able to dedicate more of their working day to the families they served while their enrollment grew!
"From the beginning, Nido has been professional, honest, supportive, and very responsive.  We previously had a business website built by a professional which was filled with problems and frustrations.  Nido was able to assess the website, see the pitfalls and failures and build a completely new website (for a lower price than the previous company) which is attractive, effective, and engages with potential customers." 
- Shaun Glicksberg, American Montessori Preparatory School
Creating A Website Designed With Montessori In Mind
When it was clear that a standard business website was just not a good fit for them, AMPS decided they needed a website that represented what Montessori was all about and that was easy for prospective parents to interact with.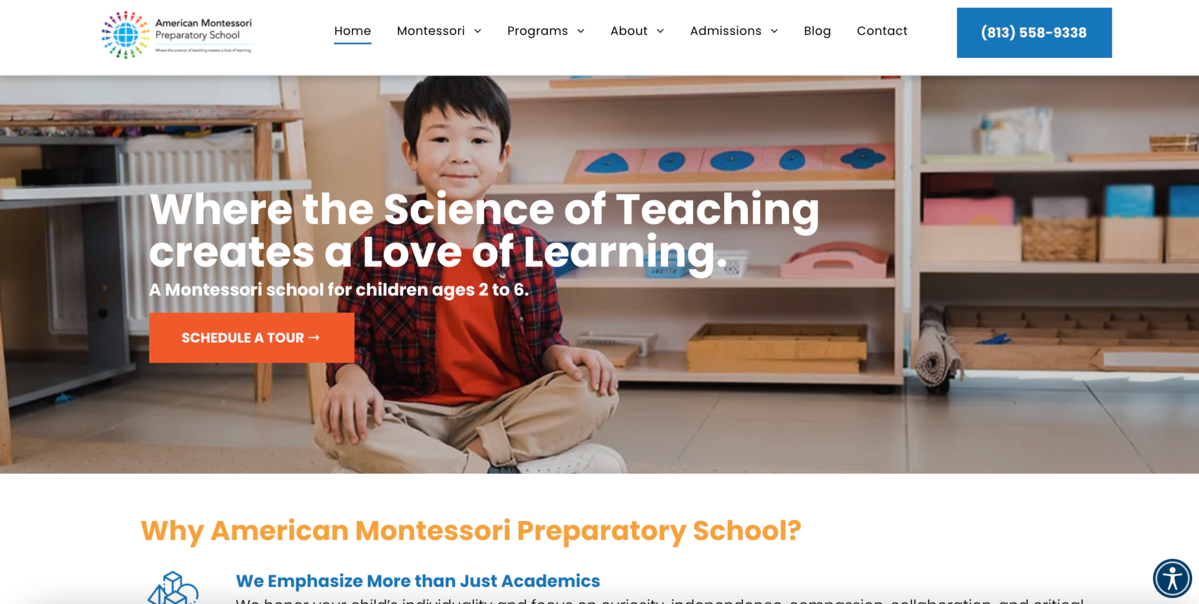 Because Montessori is different from traditional schooling, it requires different branding and design. When one thinks of a Montessori classroom, words like orderly, beautiful, minimalistic, natural, and peaceful come to mind. Nido Marketing believes that this should be reflected on a school website as well. A school's website is often how prospective parents form their first impression of your school. They should be able to move through pages and navigation bars easily and independently, much like a how a child should move through your classrooms!
We were able to work closely with AMPS to design a website that was representative of their beautiful school. Nido Marketing created a simple yet effective landing page that is designed to answer prospective parents' questions and encourage them to engage. The school logo and phone number are right on the Navigation bar which looks professional and on-brand, and it is easy to navigate through the website.... not to mention it also functions well on a smartphone and tablet!
Front and Center on the home page, parents get the immediate information they need:
Who does this school serve
Why Montessori
Automated Tour Scheduling
It is the perfect formula! Now let's explore the visitor journey throughout the AMPS Home page...
1
When the website visitor scrolls down below the schedule-a-tour, they will find a note from the director for a personalized touch. 
This allows for a great introduction from the director and a brief explanation of what the school aims to offer children.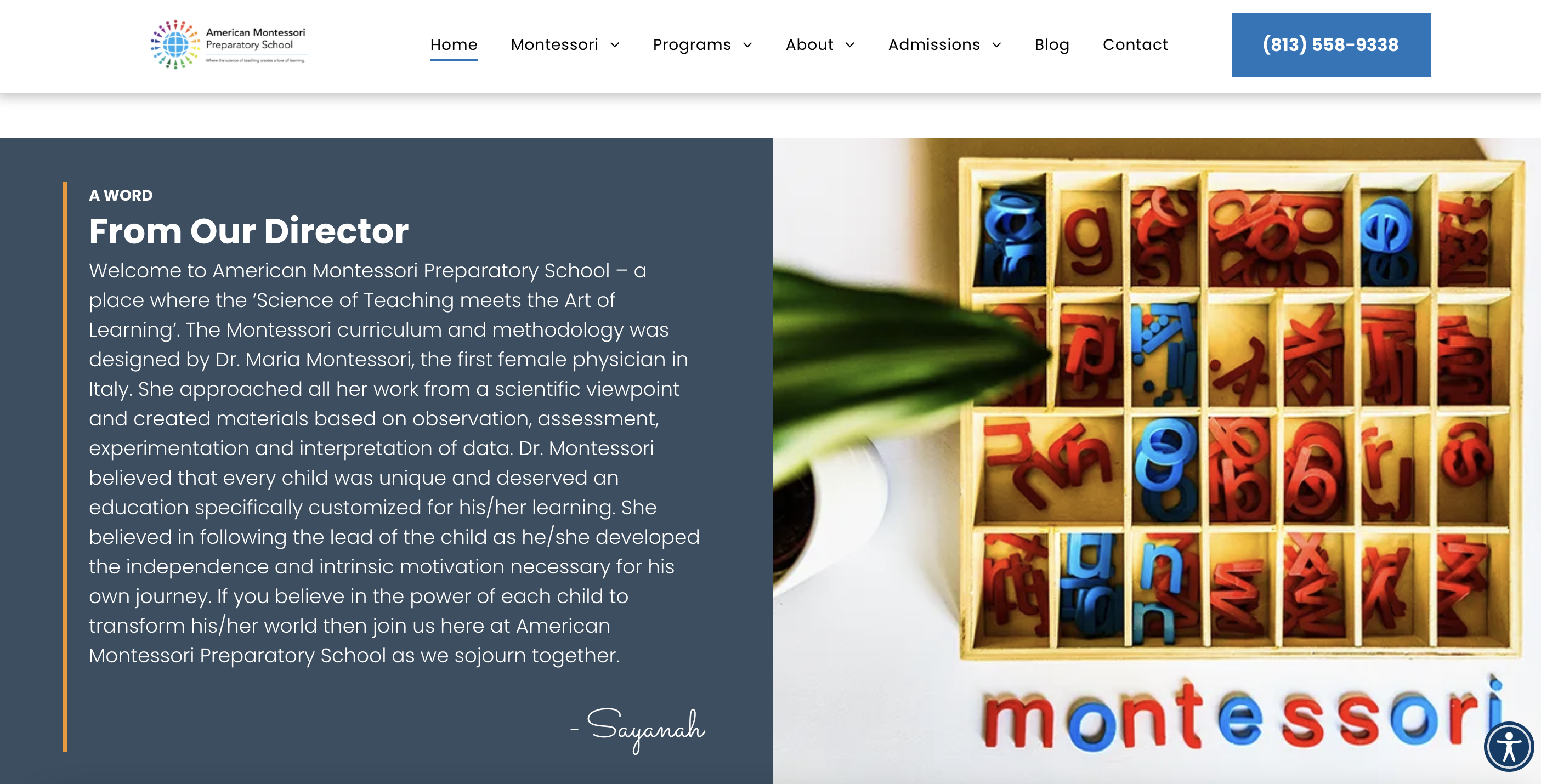 2
...then there is the easy 3 step process for applying! They can also browse parent reviews and testimonials to get some insight into the experience. 

It is important to be clear and intentional with website design. People tend to scan websites, rather than read them. Breaking down text and making things simple makes things more approachable. Parents want to know what you offer, the value of Montessori, and how to reach out and get involved.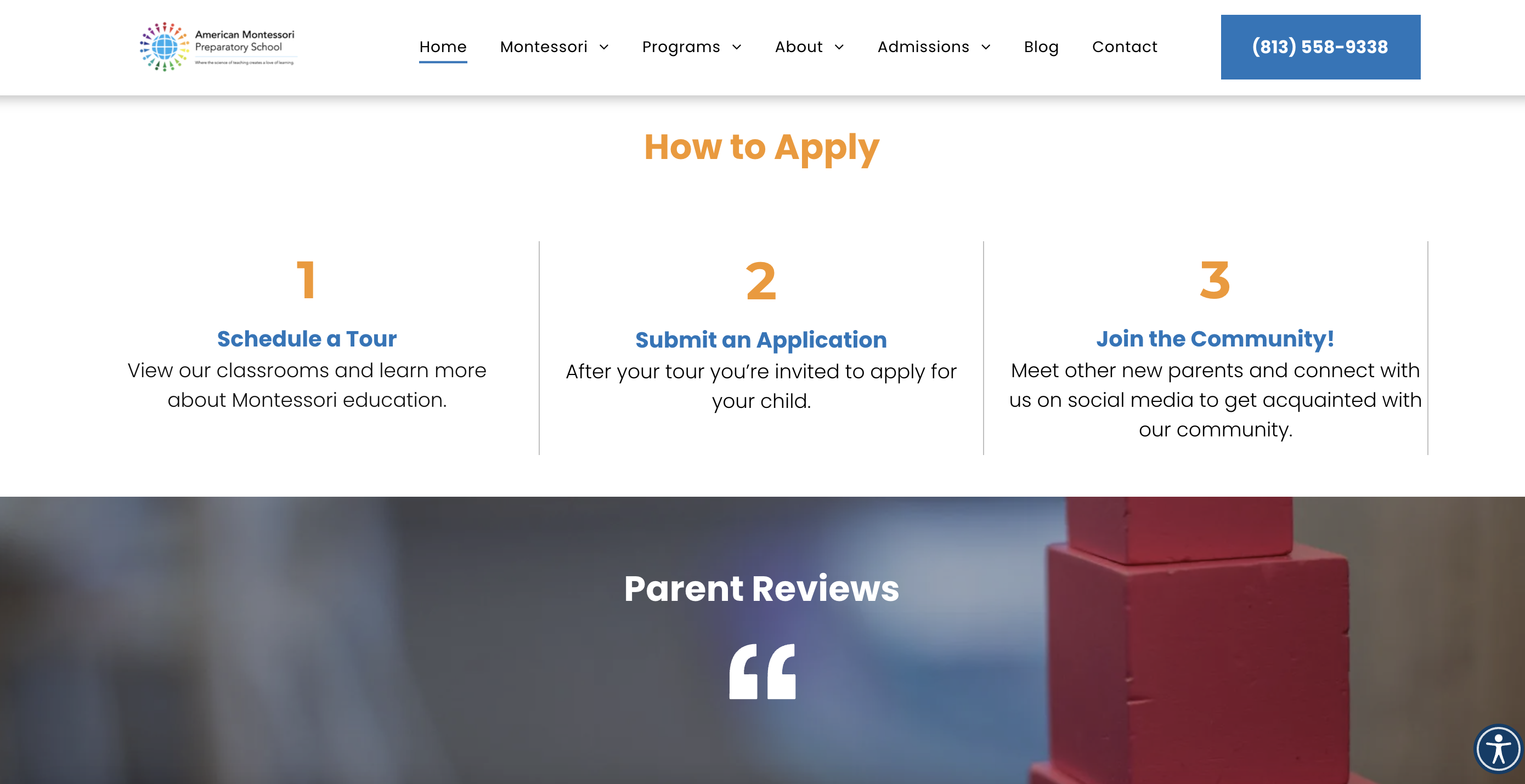 3
Finally at the bottom of the home page, there is a Montessori blog with informative posts that parents can read to learn more about Montessori. 
As a Nido Marketing website subscriber, AMPS had access to our Montessori-themed websites, so the website images and content on their site are professional and relevant to Montessori.  Having quality Montessori content provided to them was a major time saver!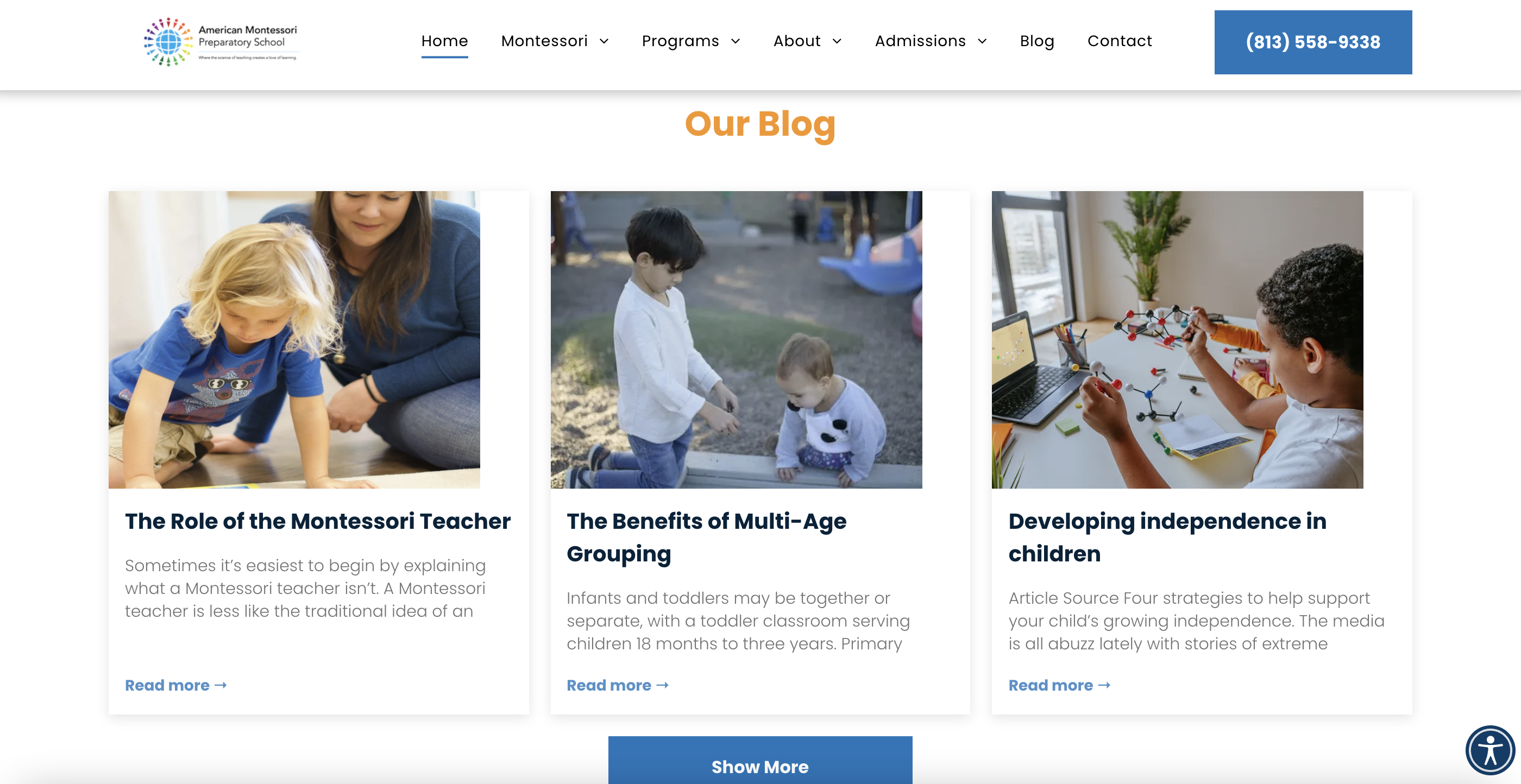 All of Nido Marketing's Montessori Websites are fully customizable. Each Montessori school is different and websites should reflect that! Are you interested in viewing some of our Montessori website design templates? You can browse through our website themes to see how design has a huge impact in the way parents interact with your school online!
Automation That Does The Work For You!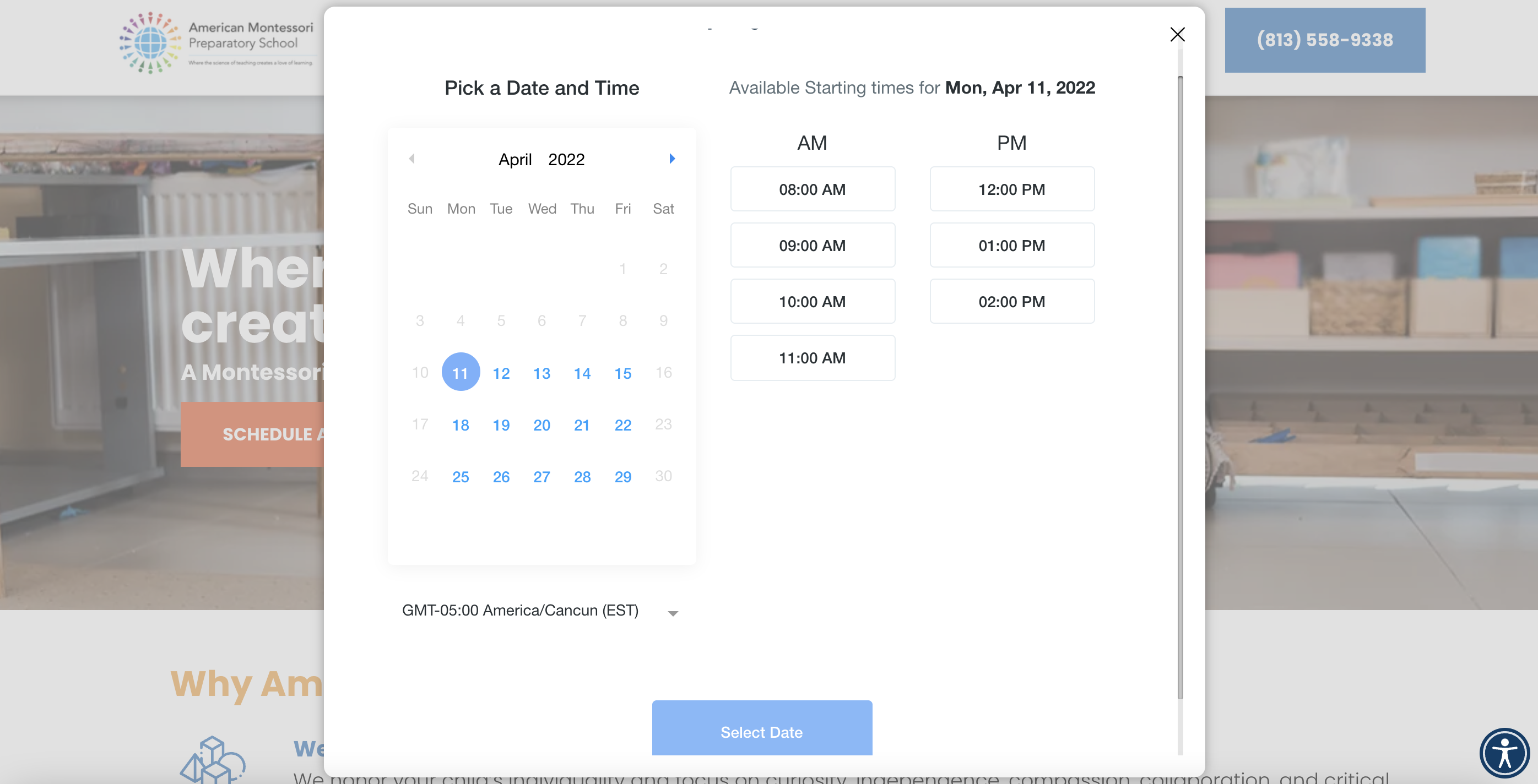 Having a well designed website with built-in automation was a game changer for AMPS. By automating tour scheduling, prospective parents were able to book tours on the spot based on AMPS's availability. Parents who booked a tour receive an automated email confirming their tour along with a follow up confirmation SMS or email. AMPS receives an email and a calendar update. School tours quickly increased for AMPS through automated tour bookings! 
"We check our emails for appointments, reach out to the customer if we need to reschedule or confirm and wait for them to show up.  It's almost scary how effective the website is.  We are at capacity and still people are signing up for tours.  We now have a waiting list." 
- Shaun Glicksberg, American Montessori Preparatory School
Working With Nido Marketing
When we asked AMPS what their experience with Nido Marketing was, we were pleased to hear that they felt supported every step of the way! We don't expect our clients to be tech savvy... after all, most Montessorians don't want to spend all day in front of a computer screen. This is why we keep things simple and as efficient as possible. Our technical team works hard behind the scenes to make sure that websites are always running smoothly and are easy for schools to manage. If there is ever an issue, AMPS could easily reach out to ask a question, hop on a call, and work with their client manager one on one to make sure things were resolved. 
"The staff at Nido is super patient teaching us how to navigate behind the scenes of our website.  No easy feat since I am not tech savvy.  If I have changes, I can leave notes or email Nido directly.  I cannot say enough good things about this company." 
- Shaun Glicksberg, American Montessori Preparatory School
Nido Marketing looks forward to a long partnership with AMPS as they continue to share Montessori education with their community. 
Are you interested in getting a free marketing plan for your Montessori school and to see how to grow your admissions and start a waitlist?