A Deep Dive Into the Montessori Admissions Funnel
Managing admissions is a major part of school leadership. During the admissions process parents will discover more about your school, you will be able to learn more about prospective families, leading to new Montessori students enrolled at your school! It can be a lot to juggle, especially when you have several prospective families all at different stages, so it is very helpful to have a break down, a plan, and a clear end goal.
So, let us ask...
When was the last time you took a deep dive into your admissions funnel or process to see what can be improved?
In the world of marketing, we would say that the admissions process is the initial user or consumer experience with your school. This means that prospective parents are learning, feeling things out, and making decisions. This is why it is extremely important to ensure a positive experience, and thanks to technology, there are many ways that you can make your school admissions process more seamless for parents... and yourself!
Let's Take a Deep Dive into the Admissions Funnel!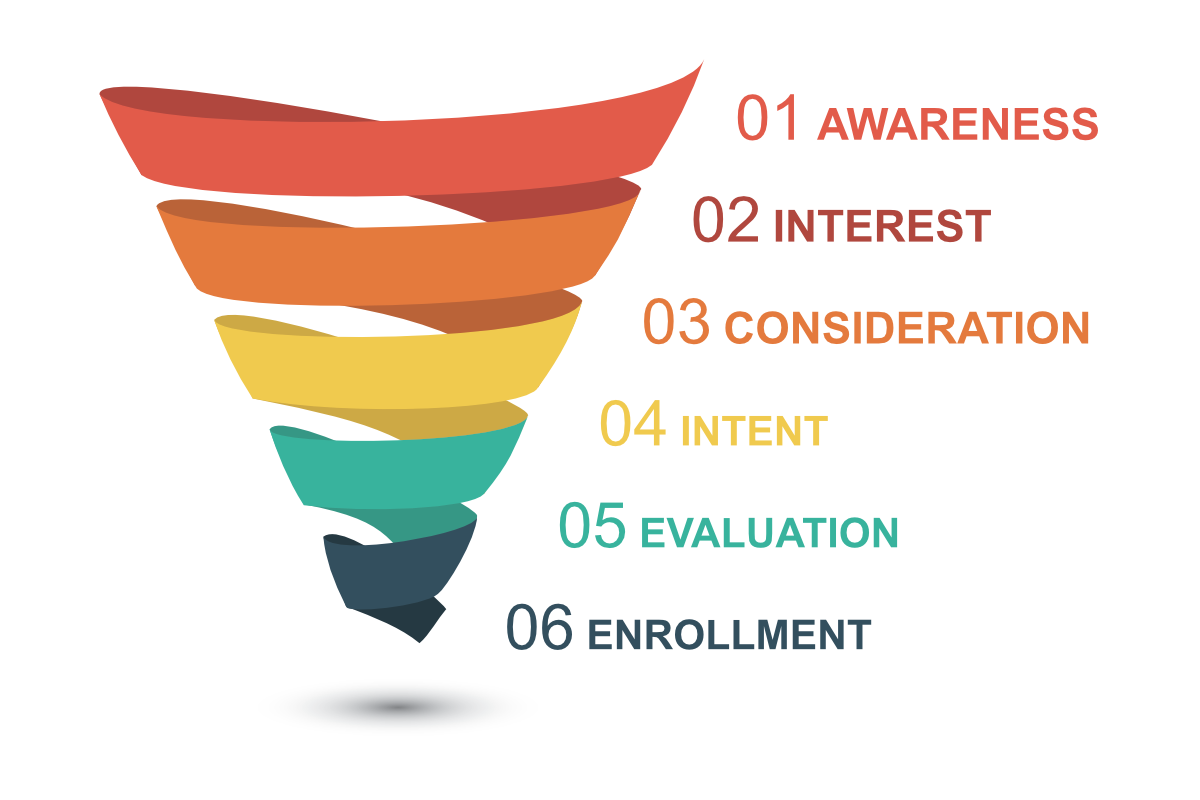 The admissions funnel is a metaphor used to categorize the stages that prospective parents move through on their path towards enrollment. The inverted triangle is the perfect graphic to reflect the process because from start to finish, prospective parents will begin to weed themselves out if they feel that they do not align with your school's mission. 
The admissions funnel can be a really useful tool for planning your communication process, gathering contacts, and educating prospective parents. If you are looking to review your admissions process, consider using the funnel model as a guide.
Let's break it down so that you can see what steps you can take at each stage to help prospective families have a seamless admissions experience! 
Awareness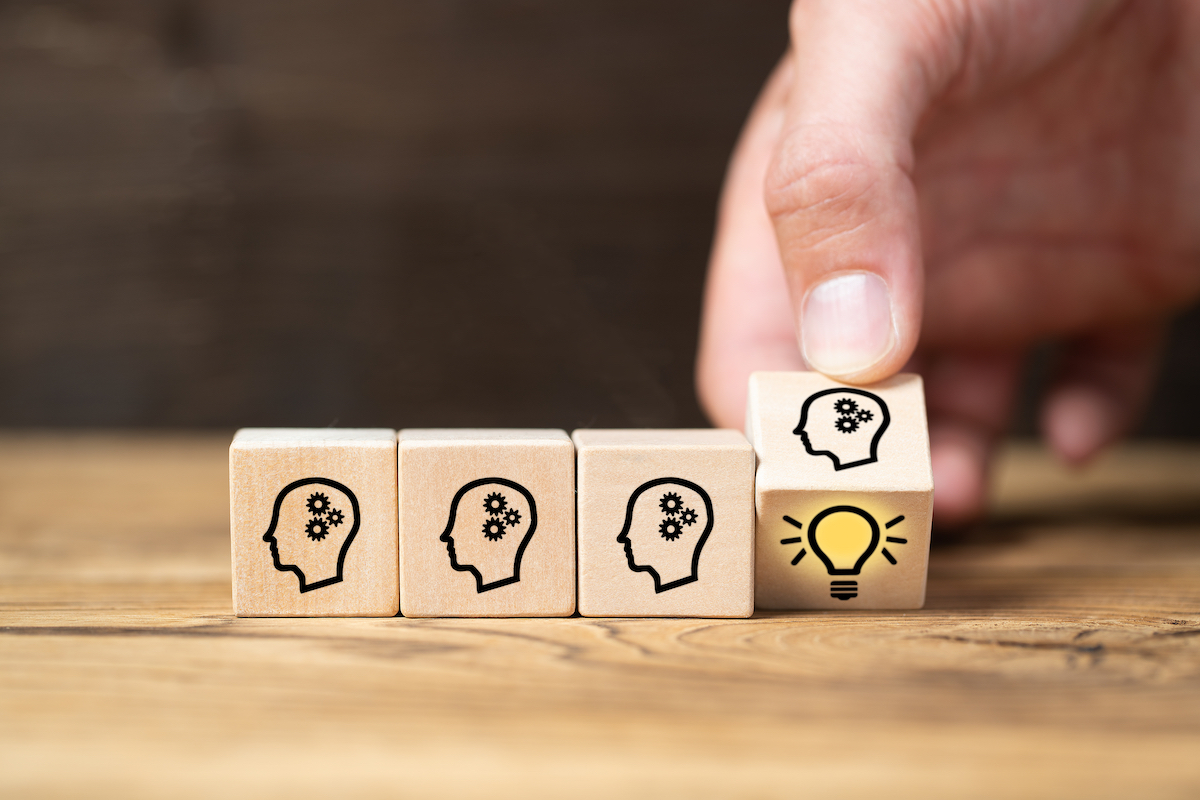 Awareness is represented by the top and widest point of the admissions funnel. During this stage:
Prospective parents are aware of their need (they need childcare and/or education for their child), but they may not be aware of your solution quite yet (or of the details of a Montessori education). 
Prospective parents are looking for thought leadership. They need to be guided!
You can speak to their pain points! They need a good environment for their child and you provide this for them. Highlight the fact that you are solving this problem for them.
Capitalize on your communication efforts at this stage and help parents along to the next phase:
Run targeted ads on social media and on Google! Google Ads will help prospective parents searching for child care and education find your school, facilitating their research. Be consistent with your ad spend and targeting and be sure to monitor your campaigns to make sure they are working effectively. 
Utilize Google My Business so that parents can easily find your school's location, opening hours, reviews, and website. Being easy to find is key at this stage. 
Start a referral program so that families at your school can recruit new prospective parents and build awareness across your local community.
Ultimately, at this stage, you want parents to easily find the information they need to know about you in order to ease them into the next stage of the admissions process — Interest!
Interest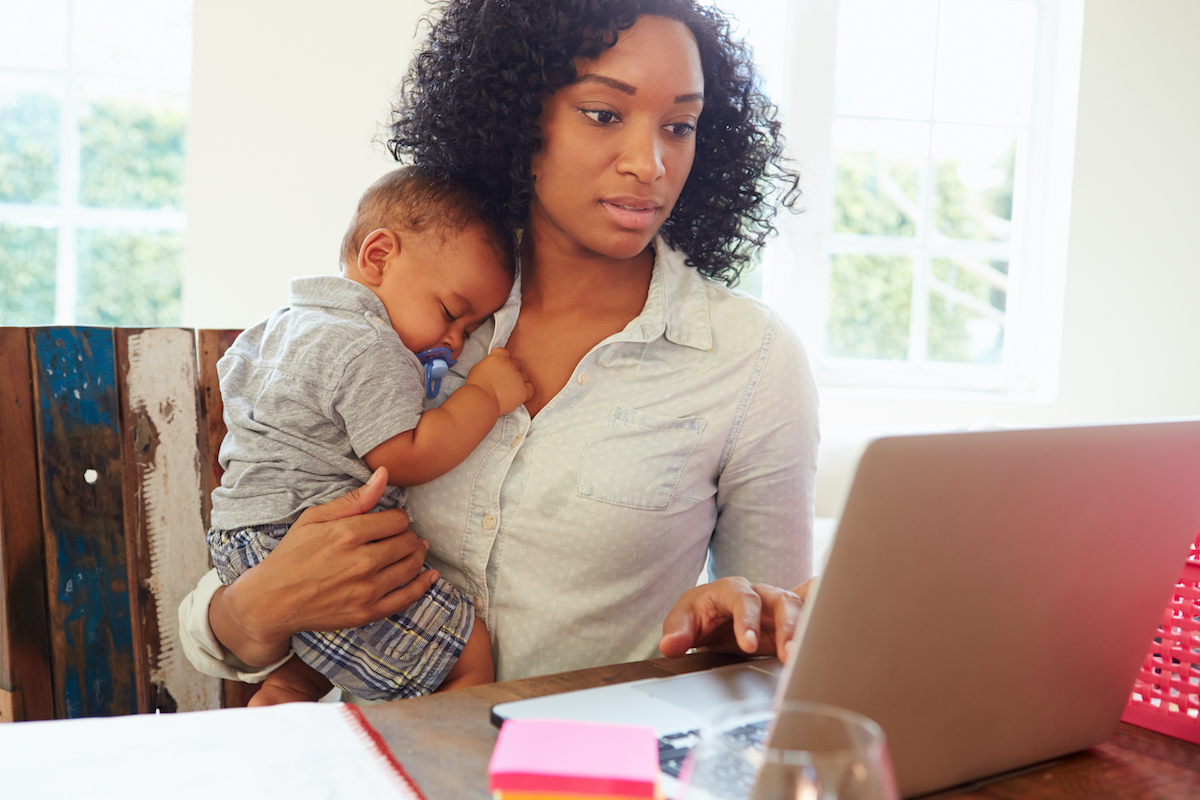 This stage of the admissions process is critical because it means that you have piqued the parents' interest! They are aware of your school and services and want to start diving deeper into your offerings. During this stage:
Prospective parents are examining all of their options. They are doing research on different educational models, daycares, etc. 
Start educating parents on Montessori! The search for thought leadership continues into this stage, making it the perfect opportunity for you to share the benefits of  Montessori education.
Prospective Parents will begin to ask a lot of "cocktail party" questions. These might be a few simple surface questions so that they can better understand your services. 
If you want to guide people to the next stage, here is what you can do:
Have a blog on your website. Let parents learn about Montessori directly from you so that you become a thought leader in the Montessori space for them. Make sure your school blog is updated frequently as well (at least once a month), otherwise, this could reflect poorly on your school. 
Provide detailed program information. You don't want to write too much text, but make sure you write program information that prospective parents can use to learn more about Montessori and how you can solve their problem! 
Have a strong social media presence. Parents love to dig around and learn more about your school, see what daily life is about, and take a look at your space. This can be a great way for them to engage. It is free to have an account, so why not take this as an opportunity for parents to take a greater interest in your school!

Your aim during this stage of the admissions funnel is to lead them from a point of interest to a point of genuine consideration. If parents have enough to look through, feel out, and learn about your school, they will be ready to start the consideration stage!
Consideration
We are now encroaching on the middle part of the admissions funnel! This is an exciting stage during the admissions funnel because it indicates that parents are genuinely considering taking some sort of action or reach out! Some things you can expect during this phase are:
The parents you will be dealing with at this phase have already done their research and may be looking exclusively at Montessori schools because they feel that model would be the best fit.

Prospective parents may be making ghost engagements with your school. They may be reading through your blog, re-visiting your website, reading through 

reviews, etc. 

Prospective parents may want to dive even deeper into your offerings, so they might be willing to hand over their contact information for valuable information.



Consideration is usually the step that comes before a conversion is made, such as a tour scheduling, or an email inquiry. That is why it is crucial to offer value during this phase! What sets your school across from the rest? Make it clear here!
Offer valuable lead magnets on your website. (A lead magnet is downloadable or emailed information that you provide in exchange for the parent's name and email address) Most likely, your most valuable lead magnet will be your tuition rates. Parents want to know what the cost of tuition is more than anything else. By gating this information through a form, you can collect important contact information allowing you to follow up with a series of emails about your school.
Offer parent education lead magnets such as checklists, parenting tips, guides, etc., and make sure to deliver the lead magnet immediately! Automation makes this easy, so make sure to have a good CRM (Customer Relationship Management software) built into your school website. If this is not already a part of your admissions process, you can learn more about our Montessori CRM

here

!
Make it as easy as possible for parents to schedule a tour with online tour scheduling. This is a crucial part of the consideration process. If it is easier for them to schedule a tour elsewhere, they may consider that first. Have an automated tour scheduling button on your homepage front and center so that prospective parents can make an appointment and enter the intent stage.
If you offer value, ease, and good communication, you will be able to lead prospective parents to take an initial action... here comes the intent stage!
Intent
Appropriately named, this stage of the admissions funnel indicates that a prospective family has taken enough time to research and consider your school... and they want to make contact! Maybe they downloaded a lead magnet or scheduled a tour, what is clear at this stage is that you have weeded out all of the prospective families that were not interested enough. Here are a few things you can expect at this stage:
Parents are making their first official contact with you. Maybe they handed over their email address so that you can send them valuable information about your school, maybe they scheduled a tour, or maybe they called up to ask a question!

Parents want social proof at this point. They have a desire to understand how other children and families have benefitted from your services. They will ask for testimonials or maybe want to talk to current families. It is important to understand this need and to be prepared with the information they want.

Offer clear calls to action! Make it as easy as possible for them to engage with you. Update your website, including automation, and as mentioned earlier, consider using a good CRM to help manage your leads.
What can you do at this stage to make the process easier?
Automation! Have easy-to-use forms on your school website with minimal fields so parents can fill them out quickly. 

Send email or text confirmations and reminders for all tours scheduled.

Deliver all lead generators quickly and make sure they offer real value.
Next up is another crucial stage in the admissions funnel, the evaluation!
Evaluation
For many administrators, this is the most exciting stage because you get to meet families face to face and show them the magic of Montessori through school tours! For many prospective parents, seeing a Montessori classroom in action will sell the school. Here is what you can anticipate during this stage:
You will need to nurture your prospects at this point. Feel free to check in with them, ask them questions, and make sure they feel supported throughout this stage. Consider offering an observation guide and allow time for them to ask questions and explore your school further. 

Be prepared for more difficult questions! The time for "cocktail party" questions has passed. Parents will now be ready to ask more in-depth and personal questions. Be prepared with good answers for them.

Parents will want to know more about the admissions process. They will want to know what the process looks like from start to finish. It is great to have a detailed guide for them so that they can know exactly what to expect. The clearer things are, the easier it is for them, so make sure to have as much information as possible ready for them. 
If parents have thoroughly evaluated your school and decided to apply, then the enrollment process can begin. Congratulations for getting this far through the funnel. Your prospective families were able to become aware of your school, research, gain interest, take action, and see if they were the right fit!
There are some occasions where parents may skip around from one stage to the next, but it is important to have an understanding of what prospective parents need at each stage to help them make their way down to enrollment as easily as possible. So now, let's take a look at the enrollment stage!
Enrollment 
Give yourself a pat on the back for reaching this stage successfully. You have put in the work, time, and energy to nurture your prospects, and now they trust you enough with the education and care of their children! During this phase, you want to make sure to wrap up the admissions process successfully by:
Outline the enrolment process and help families ease into your school community. 

Manage expectations. Be clear on what parents can expect. Communication is key!

Overdeliver! Aim to go above and beyond to make this process as stress-free as possible for the parents. 
Your ultimate goal at the end of the admissions funnel is to have families who are confident they made the right choice for their child, who felt supported all along the way, and found the process seamless from start to finish. If you can accomplish that every time, then you are well on your way to filling your classrooms every year.

If you want to learn more about how the right school website and marketing can help you master your admissions funnel, then talk to a Montessori Marketing expert today by setting up a free consultation call.
We'd love to hear your ideas, experiences, and expertise about the Montessori admissions process as well, so feel free to drop a comment... another Montessori leader out there might read it and use it to help their school grow!