How Nido Marketing Transformed Our World Montessori's Website into an Admissions Machine!
Key Insights

Mobile-friendly
Tour scheduling made easy with automation
Automated follow-up with prospective parents
Done for you Montessori content


About Our World Montessori
Our World Montessori (OWM) prides itself on being a diverse and vibrant community of young learners. The school was founded in 2004 by an American Montessori Society (AMS)-credentialed Montessori teacher and has been led by AMS credentialed Head of School Diane Lanci since 2013. OWM has both a Toddler and a Children's House program and is serving families with children aged 18 months to 6 years.  
OWM is passionate about educating citizens of the world who understand how to take care of themselves, their school environment, the wider community, and our planet. Located in Niskayuna, New York, OWM is a pillar of their local community, priding themselves on their focus of diversity and inclusion. 
Why did OWM come to Nido Marketing for help?

Prior to working with Nido Marketing, Our World Montessori was having difficulty developing an easy-to-navigate and user-friendly website. It was clear to them that the time had come to re-do their school website into something modern, easy to use, and, most importantly, attract the right families to their school. As is the case with many Montessori schools, OWM did not have the time nor the resources to develop a whole new website with automation and compelling Montessori content. Instead, they dedicated their time running an incredible school, caring for the families they serve and making sure that OWM students received the highest quality Montessori education possible.
OWM needed to find a partner who understood Montessori as well as the ins and outs of developing a great website... Nido Marketing was the right fit!
The Problem:

OWM needed a beautiful website that was user-friendly with compelling Montessori content, and with the right automation built-in to simplify their admissions process. 
Nido Marketing's Solution: A website built just for Montessori schools.
Nido Marketing was able to work with OWM to create a fully bespoke website with detailed Montessori content, a user-friendly template, and automation to make scheduling tours incredibly easy.
A Mobile-Friendly Website
  
All of Nido Marketing's Montessori Website templates are smartphone and iPad compatible, meaning that the website can be used on those devices with ease. This is vitally important because nowadays parents are often using these devices for web browsing over a desktop or laptop computer. If a website doesn't look good on a smartphone, prospective parents may look elsewhere and ultimately cost you valuable leads! Nido Marketing created a website that is easy to use across many devices, ultimately making OWM more accessible to more prospective parents.
Optimized Content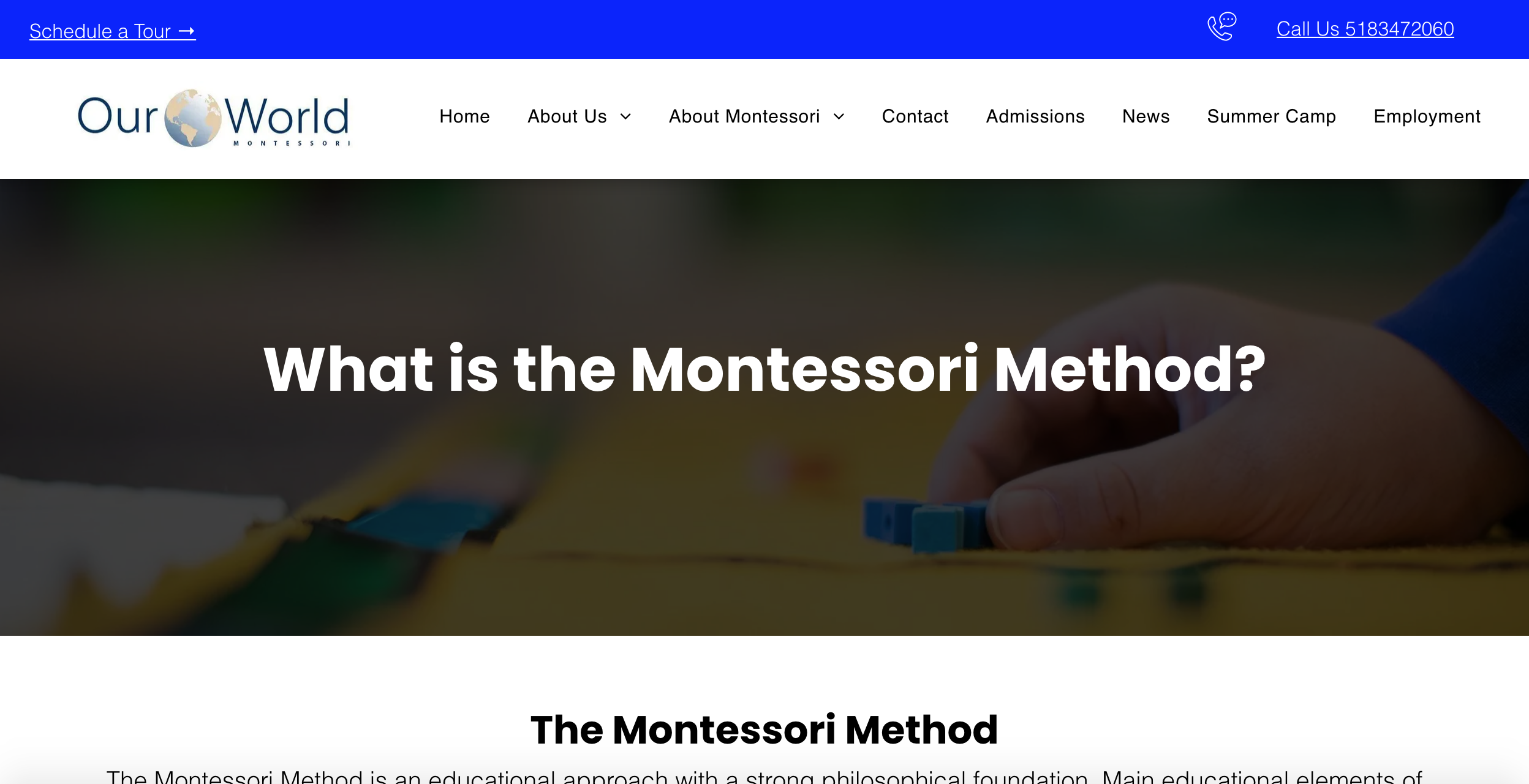 When OWM hired Nido Marketing to develop their website, they gained access to our Montessori content, from videos to program information to general information about the benefits of Montessori education. The Nido team worked closely with OWM to combine OWM's content with Nido's content to create a website designed to engage prospective parents. By having a fully optimized website full of purposeful content, OWM boosted their SEO performance and was able to reach the right families within their community. 
Automated Admissions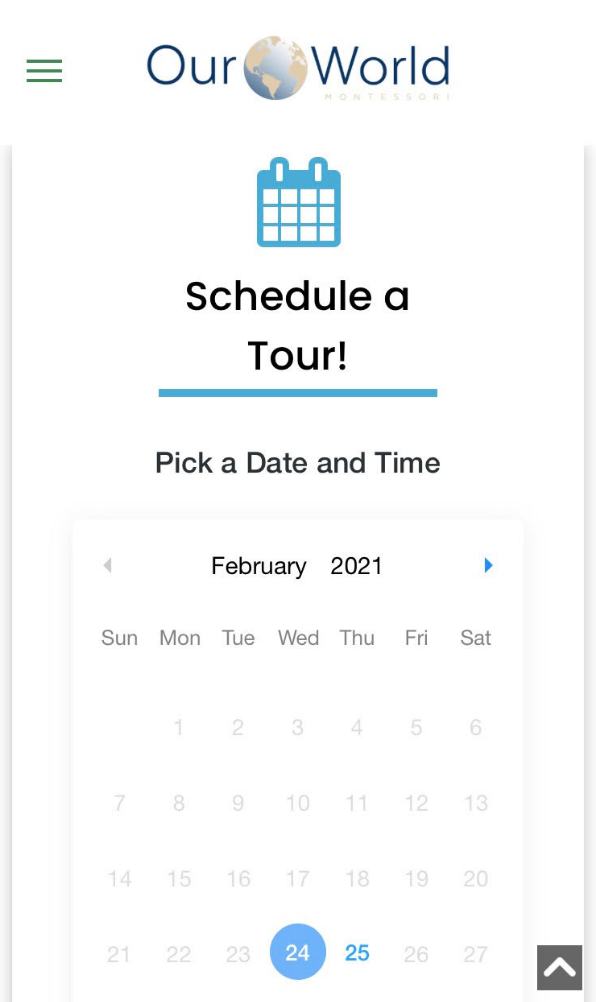 The best part about Nido Marketing's Montessori websites is found behind the scenes! What appears as a simple "Schedule a tour" pop-up on the landing page is the first step that parents will take in the admissions pipeline journey. Nido's Montessori CRM makes it easy for parents to sign up for tours based on your school's availability. Not only that, the CRM automatically sends out reminders to parents and allows them to reschedule their appointments.
A general inquiry form and a tuition request form offer other ways to capture prospective parents' contact information. The CRM takes care of delivering the tuition information and automatically follows up with a series of emails to educate parents about Montessori and encourage them to take the next step. This helps OWM stay organized and on top of their leads. Nido Marketing's web team makes sure that their website is running smoothly, so the head of school can focus on other tasks knowing that the website is working around the clock and leads are being followed up.
Design in Mind
Nido Marketing's website templates are well designed and fully customizable. Our web team was able to work with OWM to create a website that was on-brand with their school. All of the images are high quality, the fonts are cohesive, and the color scheme aligns with the school branding. OWM has access to unlimited graphic design throughout the website build process and beyond. The result is a school website that gives parents a positive first impression... one that leaves them wanting more (which is why they scheduled a tour)!
The Results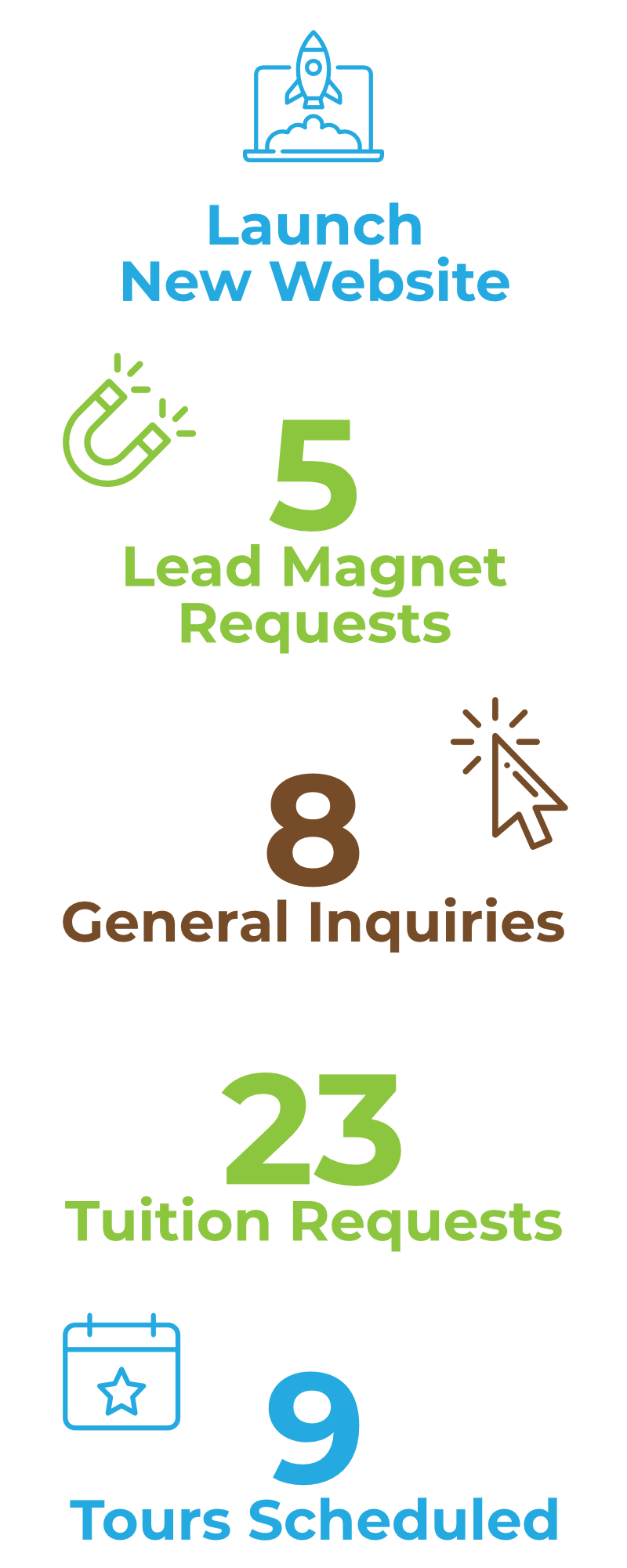 Since Our World Montessori's new website and full Montessori CRM launched, the results have been outstanding! Our team was able to work closely with OWM to create a website that helped generate more interest in their school, make it easier for prospective parents to find them and reach out to them, and ultimately become an admissions machine! We're excited to continue our work with OWM and watch them grow their enrollment and provide more children with the highest quality Montessori education.
"Nido Marketing recently built a new website for our school, and we have had interest from more prospective parents (21!) since our new website went live last week than we have had in the last 6 months. Clearly, Kasim, Micel, and the Nido team know what they are doing, and I am so grateful for the professional help. I have had a lot of questions and have asked for many changes, and I so appreciate the assistance and incredible responsiveness. I am very hopeful that this will increase our enrollment for the upcoming school year."
-Diane Lanci, Head of School at Our World Montessori School
Be our next website success story!
Free Montessori Marketing Plan