Calendly: Let Parents Schedule a Tour Online, for Free
If you're looking for a quick win for your Montessori school's marketing, this is the blog for you.
We'll be discussing Calendly, a software that allows parents to schedule a tour online for free, with automatic follow-up and rescheduling, completely eliminating the need for manual scheduling.
Interested? Let's get started
The Problem
If you are like most Montessori schools, you manually schedule tours. Someone in your office has the unfortunate task of scheduling, confirming, reminding, and rescheduling any and all tours for your school.
You need these tours; they're the lifeblood of your admissions. But let's be honest — the energy spent on the tedious administrative tasks surrounding tours would best be spent elsewhere. In fact, ask yourself this question right now: "If I didn't have to manually manage scheduling tours, how else could I spend that time?"
The answer: anything else.
Let me introduce you to Calendly, the software that will simplify this process for you.
The Solution
Calendly is a free appointment scheduling software that allows parents to easily schedule their tours online. It's beautifully designed and easy-to-use, requiring very little effort to setup and manage.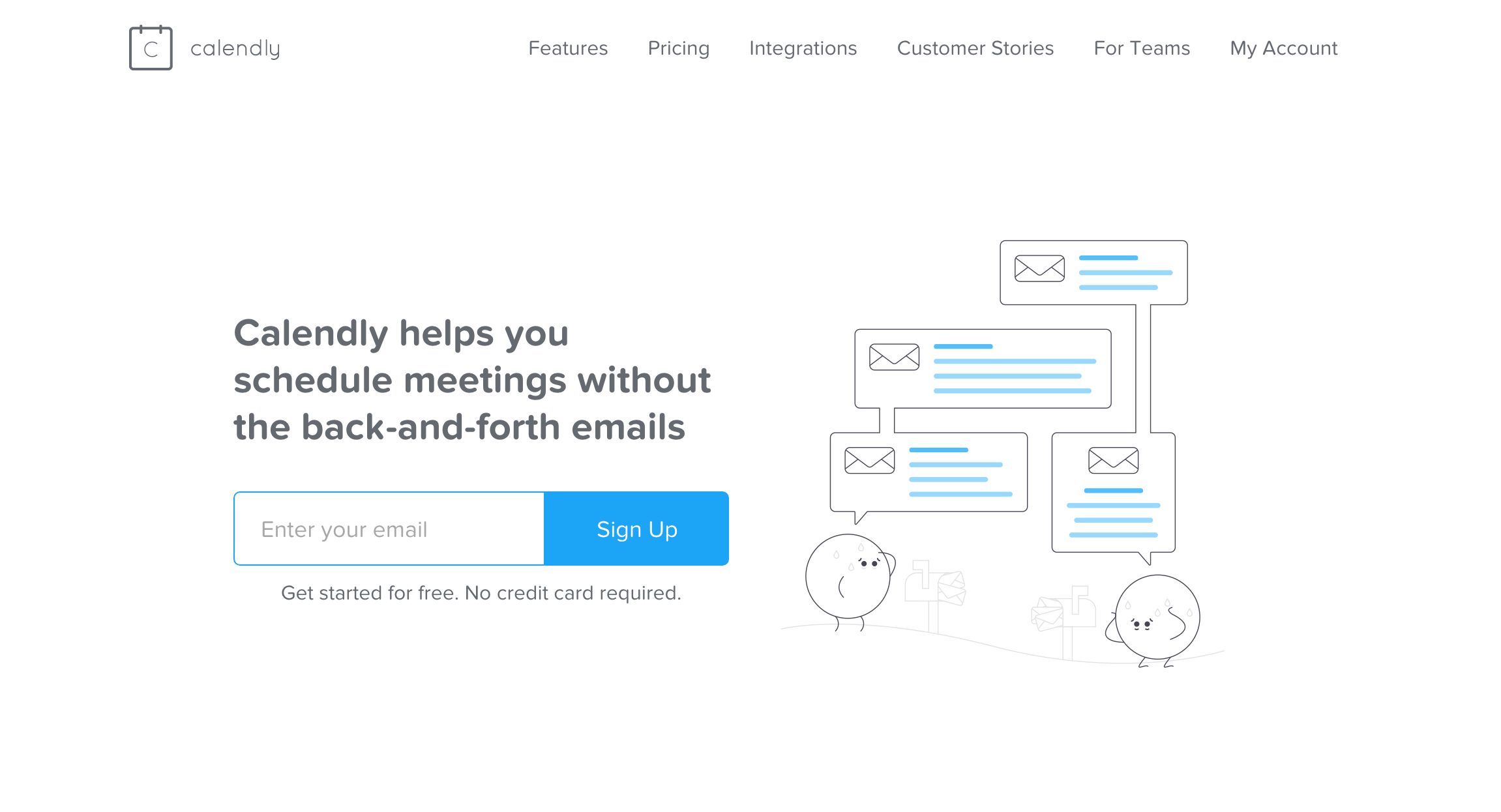 You can customize the design of your front-facing scheduler, which your parent will use to book their own appointment, to match your school brand by uploading your logo. The free version allows you to post one event type for visitors schedule (in your case, this should be a tour of your school), but with the paid version you can list as many as you want. With Bergamo Montessori School, we have four different event types which allow parents to choose exactly which tour they're interested in:
Tour of El Dorado location

Tour of Woodland location

Tour of infant program only at Sacramento location

Tour of all programs at Sacramento location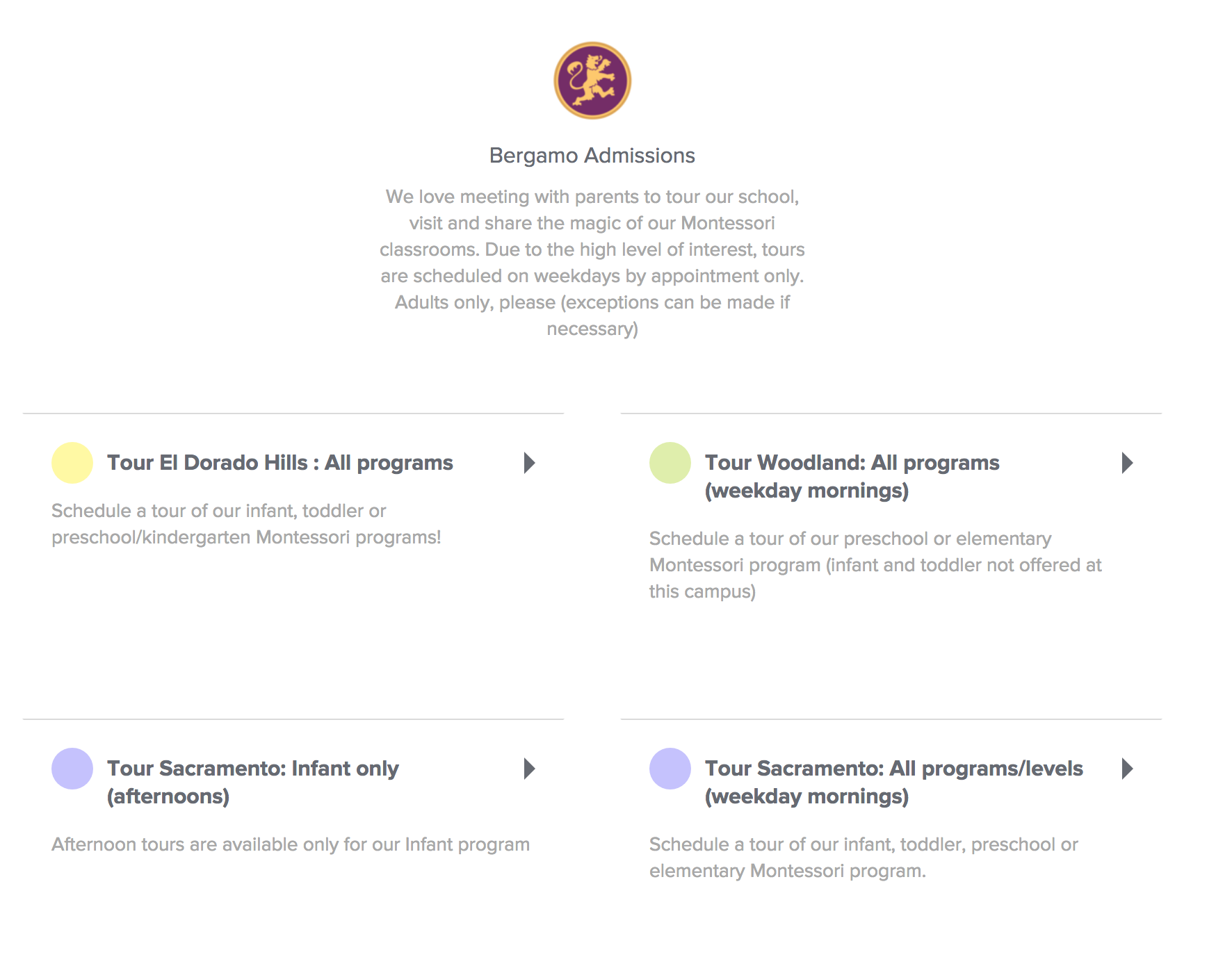 This example is from BergamoSchools.com (multiple event types is a paid feature)
Users can then select the "event type" of their choice and the system will walk them through choosing a date, time, and entering their information to schedule the appointment.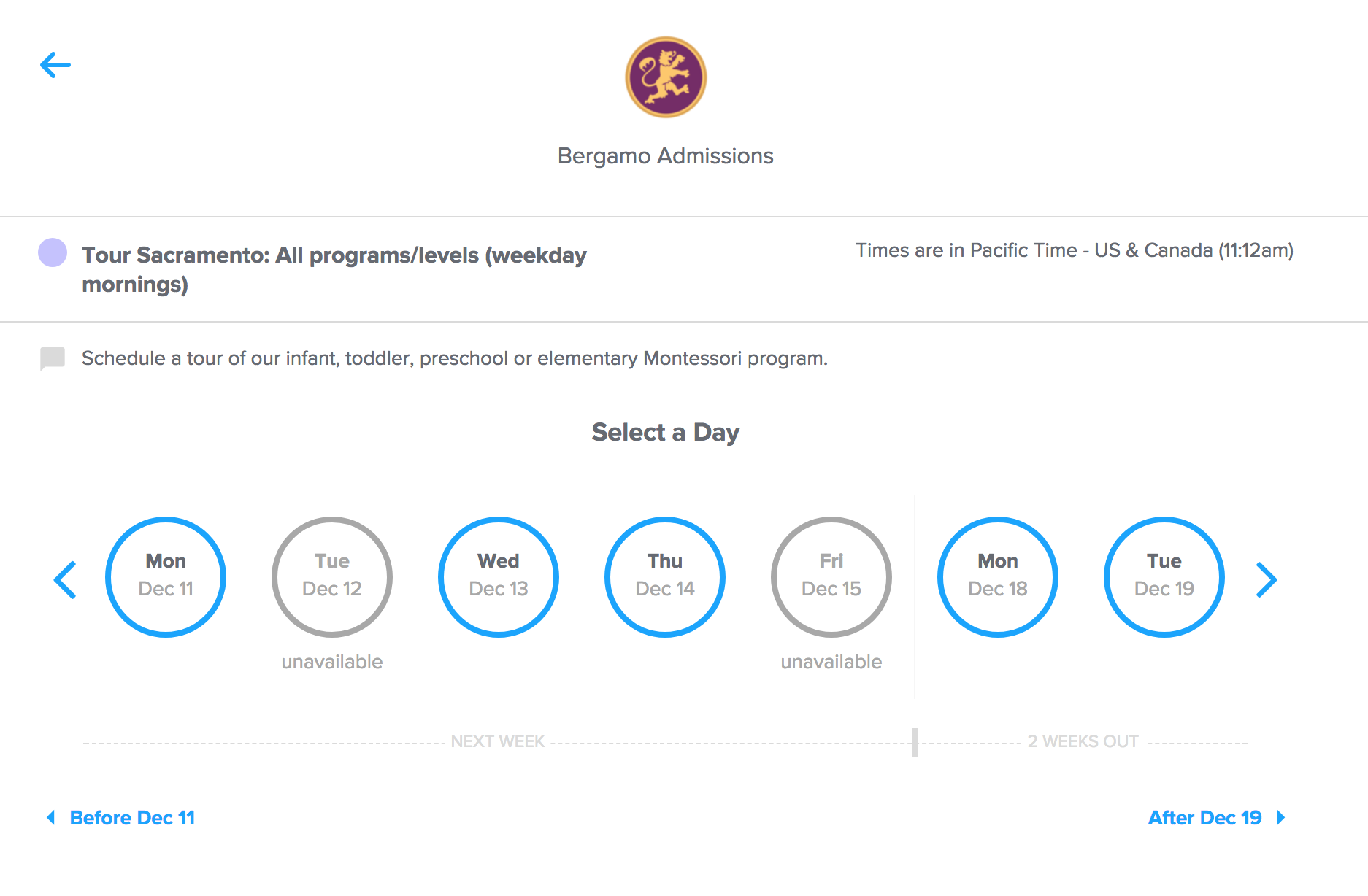 Fun fact! All available times are shown in the user's time zone. Since almost all of your users will be in the same time zone this doesn't really matter. But it's useful if you use Calendly to schedule phone calls or other virtual meetings.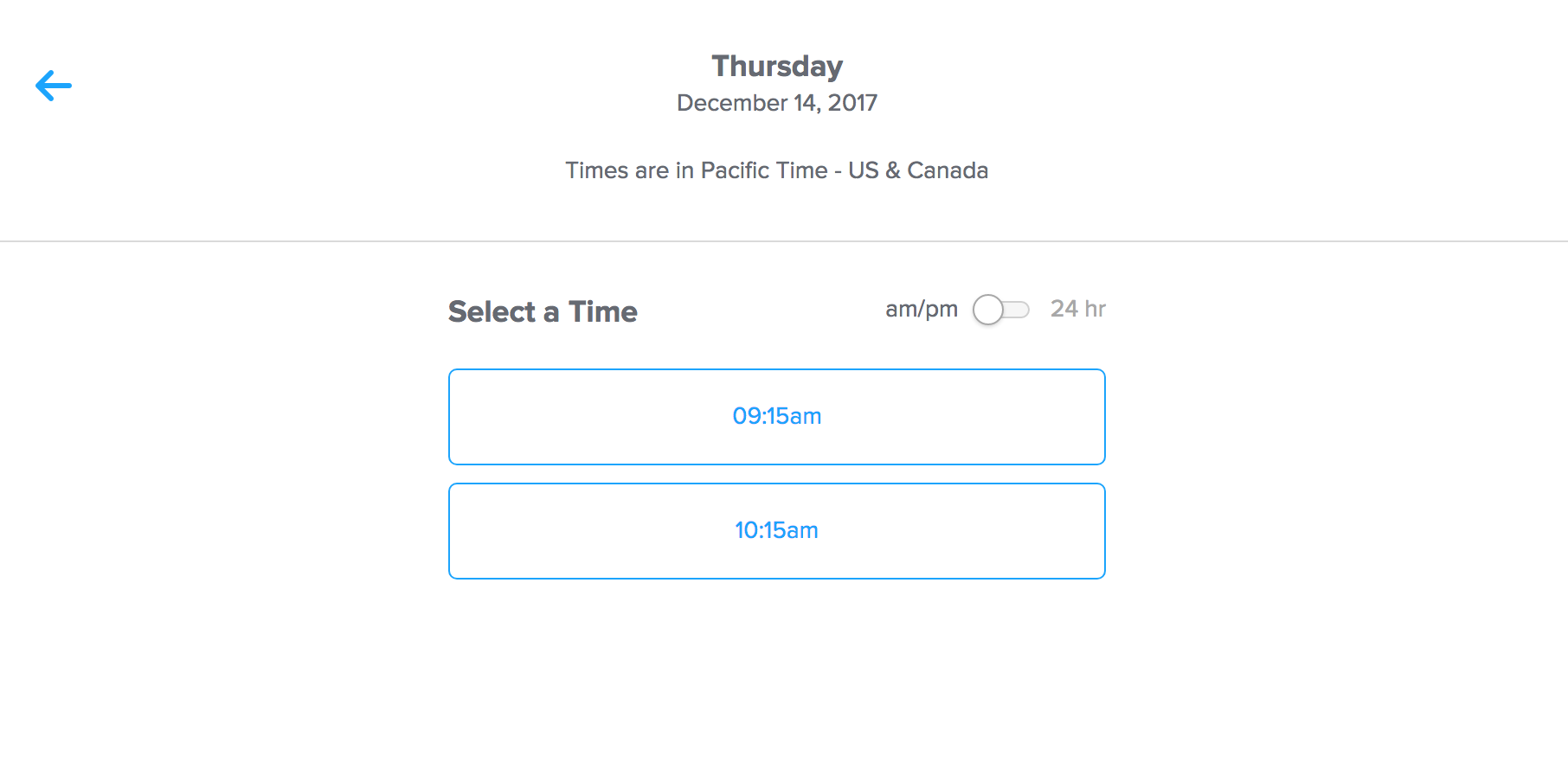 When it's time for the parent to schedule their tour, Calendly allows you to create a custom form to capture any information you want/need. This can be an extremely useful source of information for your future tours.
Which tours are your most popular? Which tours ultimately produce the most enrollments?
You also now have the information you can use to tailor future marketing efforts. At a minimum, each parent that schedules a tour should automatically be placed into an email sequence that gives them practical and useful information.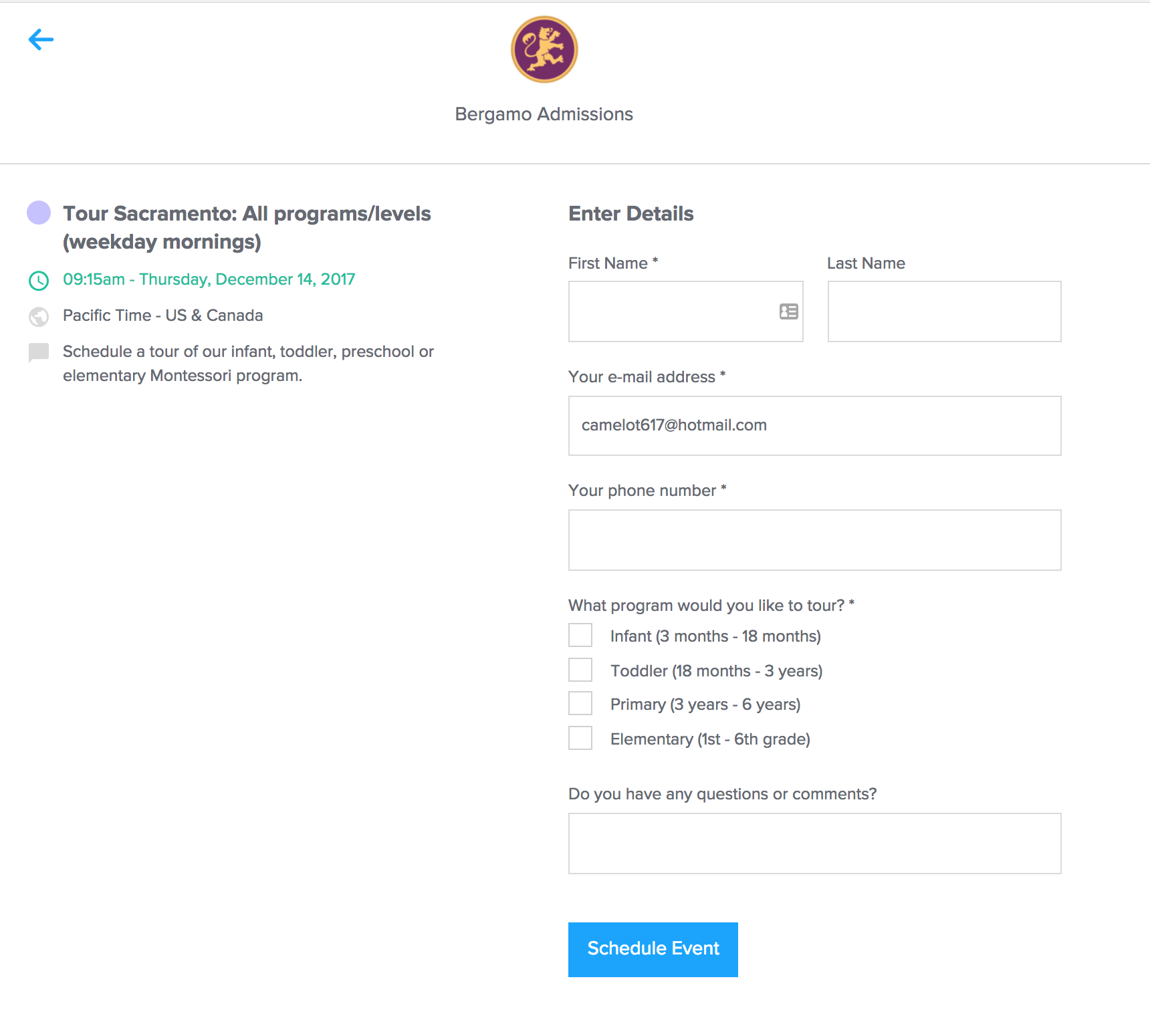 When a new appointment is scheduled, Calendly will automatically notify you by email. This email will include details of the appointment including name, email, date, time, and any other answer the parent gave to your questions.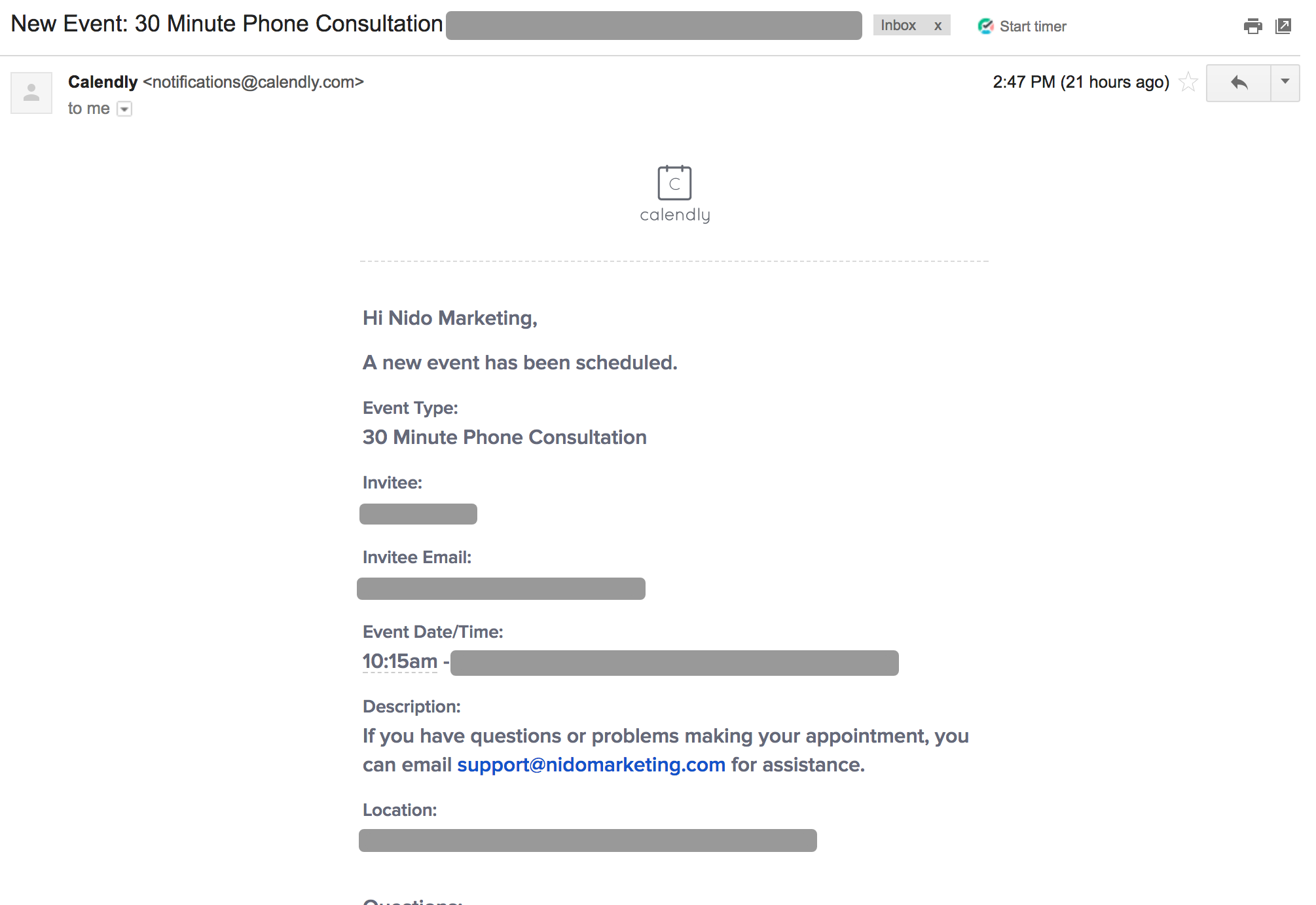 This example is for a Nido Marketing consultation, not a school tour. Your email will match your account.
How to ad Calendly to your website
Now, of course, you would like to know, how to make use of the Calendly form. Calendly makes it very easy for you to embed their forms on your website. For that reason, you will find inside the settings an option to add it to the website. Afterwards, Calendly offers 3 ways to embed the event. The easiest way will be to embed the form right away on the desired page.
Calendly will give you a step-by-step guide no matter, which option you will choose.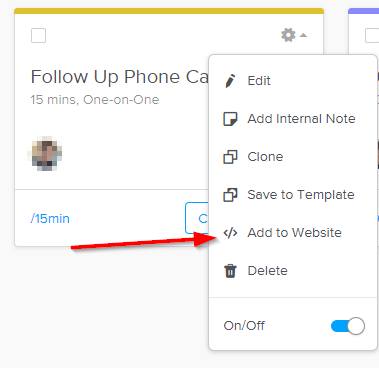 Tracking
Calendly also support UTM parameters. If you aren't familiar with UTM, read this. This functionality truly makes Calendly an exceptional value, regardless of the plan you choose.
If a user clicks on one of your trackable UTM links and proceeds to schedule a tour, Calendly will show you exactly where that tour came from.
Here's what this means for you: when it comes time to look at your marketing budget, you can see exactly which online marketing source produced the most, and highest quality, tours.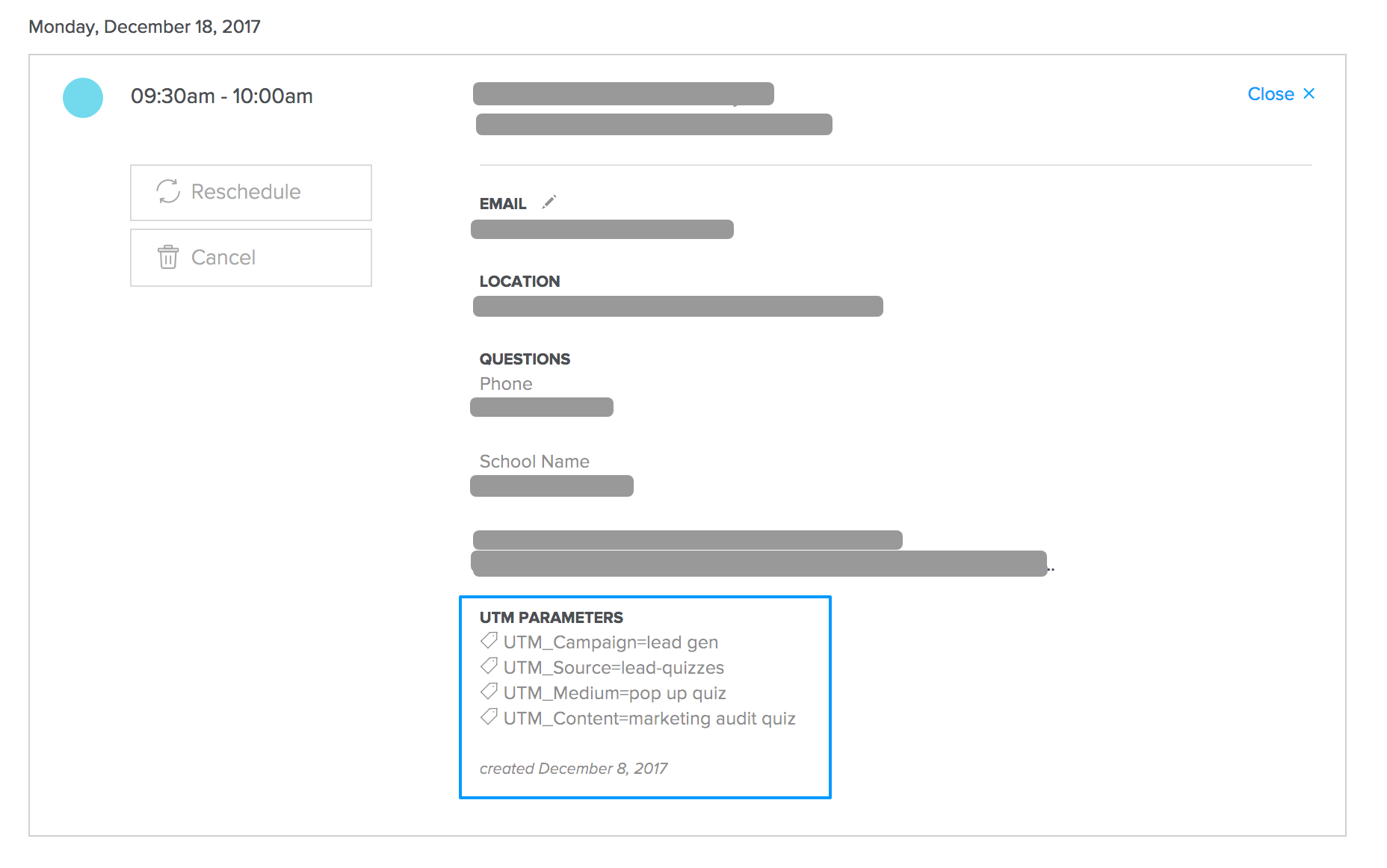 Tracking conversions in your Google Ads campaigns
There is another very useful way to track the conversions you are actually receiving from your campaigns through your paid advertising. The Calendly PRO subscription will give you the option to enter a Thank-You page to a successfully scheduled event. That option will re-direct the parent after he scheduled the tour to a dedicated page for just that purpose, which allows every visitor to be counted as a conversion.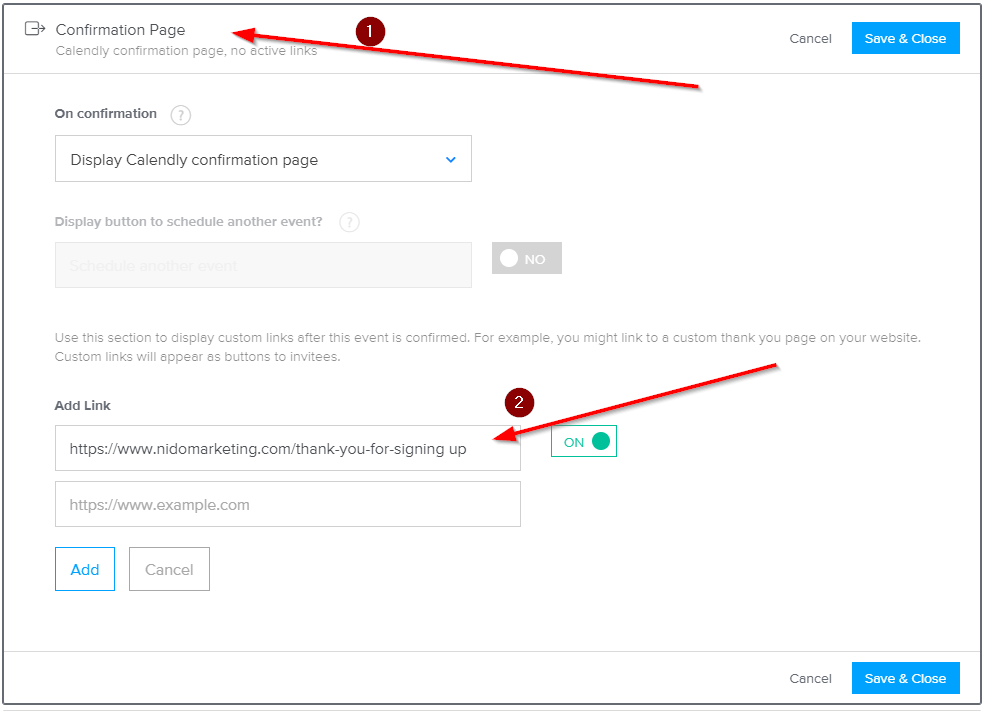 If you want to read more about that, please visit our blog post about why you need redirect pages for a contact request.
This is one of the quickest and easiest ways you can start improving your online experience which, as a by-product, improves your marketing.
Have questions? Not sure about one of the settings? We can help.
Sign up for a free Nido Marketing membership to join our Community Forum. Ask questions and get actionable insights from real Montessorians around the world.