Perseverance Pays Off for Ivy League Montessori School
Ivy League Montessori School in Cumming, Georgia was founded in 1991 by Grace Janho to provide an empowering and engaging environment for children to grow, learn, and discover at their own pace. Today, the school boasts a thriving toddler and primary community, as well as comprehensive elementary and summer programs.
Dedicated to preparing children for life and helping them discover how they can best contribute to our world and culture, Ivy League Montessori School teachers and its director are AMI accredited to ensure they are delivering quality programs guided by the true philosophy of Montessori education.
Before joining Nido Marketing
Prior to becoming a Nido Marketing member, Ivy League Montessori School faced the same challenges as many other Montessori schools. Their primary focus is their students and families, so there was little time left to address the day-to-day tasks of running a successful school.
Their website needed work, they have stretched thin administratively, and they knew they could benefit from outside assistance—especially when it came to marketing.
The competition from other schools and programs is fierce, making it even more imperative for Montessori schools to understand the value of a strong online presence in order to stay relevant and reach more prospective families.
Ivy League Montessori joined Nido Marketing as a Fourth Plane member toward the end of 2018, hoping to launch a successful digital marketing campaign to expand their online presence and boost their tour numbers.
A slow start led to some fine-tuning.
The Nido Marketing team went to work immediately building and launching a Google Ads campaign utilizing a strategy that had proven effective for other Montessori schools.
At the same time, Nido was working on rebuilding the Ivy League Montessori School website, making strategic enhancements to increase engagement and improve the user experience.
Key changes included making sure parents could easily schedule tours and locate important information about programs and tuition, which typically leads to more conversions and increased enrollment. (You can read more about that in our blog, The Top 16 Must-Haves for Every Montessori School Website.)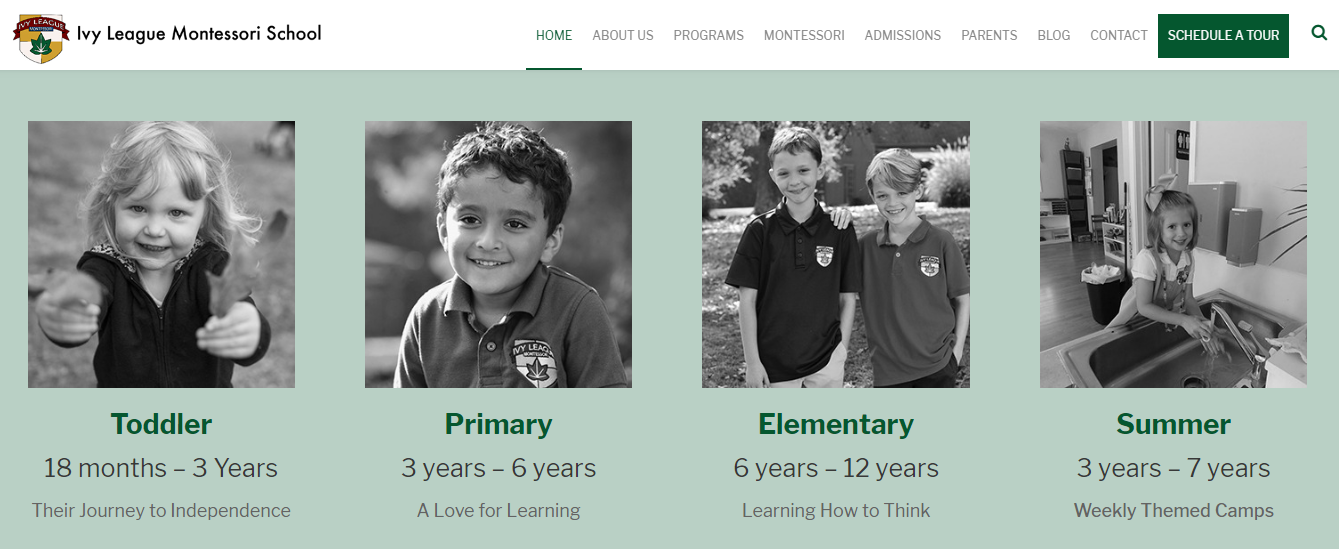 Both Nido Marketing and Ivy League Montessori School agreed to launch the campaigns prior to the new site going live. However, they noticed they weren't seeing the results they'd seen in the past with other Montessori schools.
Ivy League Montessori was feeling discouraged.
Then, the new website went live.
And it's been smooth sailing ever since.
Immediately after their new website went live, Ivy League Montessori's marketing campaign started producing leads.
"Once we finally got the website launched, the campaigns showed AMAZING signs of success," said Ivy League owner Liz Butler. "We're still very early in but it's looking great!"
The trick was restructuring both the website and the ad campaign to make them more Montessori-centric. Homing in on the right keywords and phrases, along with removing certain ad groups, reduced the number of non-converting clicks from search traffic looking for private schools but not specifically Montessori schools.
The website went live on February 24th of 2019, and on that same day Ivy League Montessori had their first conversion. 
Prior to that, the number of clicks to conversions was dismally low.
Now, with a new website and an improved ad campaign, Ivy League Montessori school is seeing more conversions than ever before. Their visibility has increased, their site has a higher overall quality score, and their ads have a better search impression. With a more consistent and congruent growth strategy, the school can look forward to even more success.
The best partnerships are those that endure.
Kind of like Frodo and Samwise, sometimes you have to go to Mordor and back to prove your partnership mettle.
Because every Montessori school is unique, strategies that are successful for some may not be the best fit for others, but the key is sticking with it and finding a path that works—and Ivy League Montessori School is a prime example of perseverance in the face of a challenge.
Nido Marketing will continue to work with Ivy League Montessori to periodically fine-tune their digital marketing strategy and ensure it evolves alongside the needs of the school and the families they serve.