The Montessori Family Life Cycle
Attention Montessorians! Matt Hillis recorded a webinar on this very topic. If you're interested in reviewing that video you can do so by visiting the "Coaching" page in the member's area or by clicking here. If you aren't a member yet, you can sign up for free!
This is lesson #2 in the Montessori Marketing Method Series. If you haven't done so already, please review lesson #1: The Montessori Admissions Funnel.
You'll remember that "The Montessori Admissions Funnel" outlines the sequence of events that most Montessori parents go through in order to make the decision to enroll in your school.
In the same way, "The Montessori Family Life Cycle" is a framework that describes the stages a family will typically through while they're engaged with the Montessori Method.
If you understand these stages and how they impact our families, we can create content and processes that best support them through this journey.  The result is a strong bond between family and school.
An overview
From a timeline perspective, the Montessori Family Life Cycle crosses over with the stages outlined in the Montessori Admissions Funnel. However, the two constructs speak to different aspects of the Montessori family's journey.
The Montessori Admissions Funnel provides context as to where the key decision makers (typical the parents) are in terms of their decision to choose Montessori and enroll in your school.
The Montessori Family Life Cycle describes a family's readiness for commitment to Montessori for their child.
The crossover between these stages will depend heavily upon the specific circumstances surrounding each family. However, they generally happen at the "consideration" stage of the Montessori Admissions Funnel, as this is the first stage where parents have typically identified Montessori as their chosen method of education.
Here's what The Montessori Family Life Cycle looks like: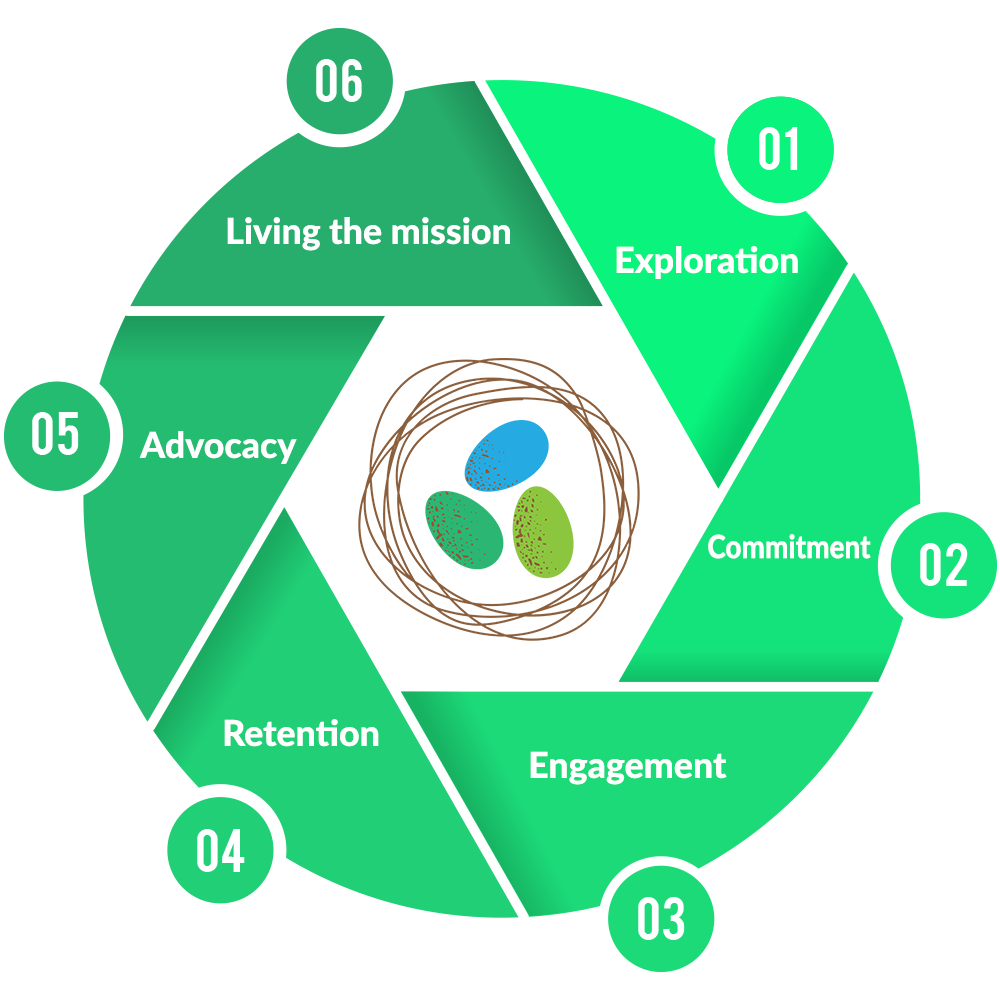 It is important to note that the stages in the life cycle are not mutually exclusive. It is not uncommon for a family to be in two phases at one time throughout this journey.
However, the sequencing of the stages tends to be relatively consistent. Understanding this consistency will help you serve your families in a way that speaks directly to their needs.
While the Montessori Life Cycle is a natural evolution, it is important to note that there is a significant amount of proactive measures that can be taken by Montessori schools to help nurture our families into graduated stages of the Life Cycle.
Let's look at each stage in sequence:
Exploration
The exploration stage of the life cycle defines a mission appropriate family's introduction to the Montessori Method. This overlaps heavily with the latter stages of the Admissions Funnel, when families are working towards making a final enrollment decision.
Families that are in the exploration phase of the life cycle are working to understand Montessori as a whole as well as attempting to match the value of the Montessori method with the needs of their child and their family.
During the exploration phase, a family's primary concern will be how well Montessori will align with their values as well as their long-term goals for their children.
In addition to exploring Montessori as a whole, families will work to understand the varying options available to them within the realm of Montessori. This could include:


Distance from home or work

Overall cost of the program

Volunteer hours required

Current or past alumni

Friends or family already enrolled

Social proof

Charitable giving

Fundraising
During this phase, families will look at all available Montessori options in their area. Because Montessori practice is so diverse, it is critical to educate potential parents on what constitutes authentic Montessori practice and standards.
Commitment
This stage in the life cycle is more nebulous than it may appear. Even among your most mission appropriate families, you may find varying degrees of commitment, regardless of where they happen to fall in the Admissions Funnel.
In fact, you'll find families that actively work through the admissions process and even enroll their children in your school without being fully committed to Montessori.
You may feel that these parents have one foot in and one foot out. Few things are more frustrating than having a family enrolled in your school that is, overtly or otherwise, not fully committed to Montessori.
In order to make sure we have engaged parents, it is important that we guide them to and through the commitment stage of the Montessori Life Cycle.
You'll find it difficult if not completely impossible to see families through the entire Life Cycle without first ensuring they have landed firmly in the commitment stage.
We'll talk much more in subsequent lessons about how to earn a family's commitment and some of the barriers we need to overcome in doing so.
Even when a family is fully committed to Montessori, it doesn't necessarily mean that we've earned a student for life. Instead, it means that the family is committed to Montessori during this stage or phase of their child's education.
We'll need to work to build the case for ongoing Montessori education in the varying levels of your school. This will be a repeating process throughout each family's tenure.
In an ideal scenario, your families will be fully committed to Montessori at the time of admission. Once you have a family that is fully committed to Montessori, they'll begin moving naturally into the engagement stage.
Engagement
Not everyone will understand how critical the Montessori families are to your Montessori school as a whole. It's important to establish this expectation early and remind parents of it often throughout their child's enrollment at your school.
A committed family has chosen your Montessori school and made an intellectual and financial investment in Montessori.
An engaged family illustrates their engagement by regularly acting upon it and works to incorporate Montessori into their family and day to day life.
There are a number of strategies available to you to ensure you continually keep your Montessori families engaged.
In order for families to be engaged, there needs to be a relationship between teachers and parents that help make the child's experience real for the parents.
This type of active engagement works to validate a family's decision in choosing your school. It also works to help reinforce the parents' role in a Montessori education by maintaining ongoing touch points and reminding them why they chose your school in the first place.
Engaged parents will be active participants in their children's' education. They'll regularly attend school events, work to understand their children's unique growth and struggles, and will carry the work being done in the classroom into their homes.
A lack of engagement is a strong indicator that a family is not enrolled for the long term. It's essential that you measure and track your progress in this stage to prevent attrition.
Once we have an engaged Montessori family, it becomes important that we focus on moving them into the retention phase of the life cycle.
Retention
Families will be in the retention stage at multiple times throughout their child's enrollment. Retention is best met through early and ongoing parent education.
There's a strong allure for parents to begin migrating towards more conventional educational models, specifically when that means free options through public schools.
Too many Montessori schools wait to educate their parents in the retention phase. This is a catastrophic error.
Instead, school leaders must proactively communicate the benefits of the next level of their child's experience in Montessori.
For example, so many Montessori schools wait until admissions season to begin speaking about the importance of the Kindergarten year.
If you're only working to retain students once they're ready to transition to the next program, you are already too late.
Instead of speaking to each stage in sequence (and when a family has approached that stage), we should connect the dots for parents so they see a roadmap of their child's experience and the end result of their commitment.
This can be as easy as illustrating how certain aspects of earlier programs establish the foundation for success as the child grows
Educating parents on Montessori as a whole, instead of just an early childhood program, will strengthen their belief of Montessori as a complete educational solution.
Advocacy
Your Montessori families are your single greatest marketing resource! As you work to serve them it's important to also help them understand how they can help you grow your school to serve more children in your community.
The easiest form of advocacy, and one that's a common byproduct of a satisfied parent, is through the admission of siblings and the referral of friends and family.
People of like mind and values tend to attract each other. This means that your mission appropriate families more than likely know other mission appropriate families!
While it's reasonable to expect a referral from a satisfied parent, we need to also understand that parents may not always understand just how influential they can be in this process.
Montessorians need to build systems that regularly remind parents how important their referrals are and also rewards them for any successful admissions they refer to our school.
In addition to asking for referrals, make sure actively cultivate positive social proof. There's very little in terms of marketing material that can be more powerful than an honest review from another parent.
It's not unreasonable to expect that your most engaged parents will provide you with this feedback organically and of their own accord. However, you'll be putting yourself at a disadvantage if you simply wait for them to come to you.
Instead, build systems and procedures that actively solicit this feedback and do so at the times and stages you know you're most likely to receive the strongest responses from your families.
Living the mission
When a student graduates your program, you're creating in her and through her family an advocate for the Montessori method; potentially for generations to come.
School leaders must build case studies and alumni profiles that illustrate successful graduates. Montessori is education for life. The best thing we can do to prove this is illustrate it through the students that graduate our program.